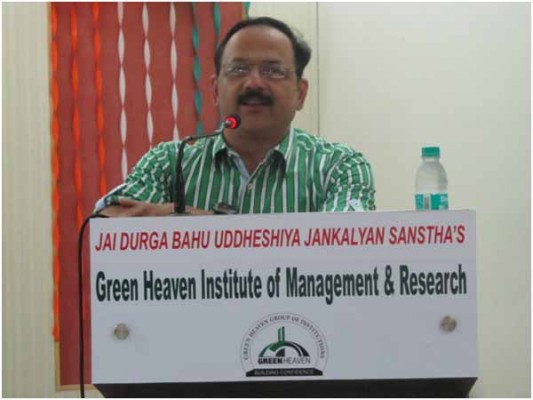 Nagpur News: Green Heaven Institute of Management and Research recently organized a lecture on "Make the Most of Your MBA" by  Sanjay Pratap Jog, Business Head, Times of India Group, The lecture series is being organized as a part of the Student Empowerment Program of the Institute.
Sanjay Pratap Jog advised the students to have a practical outlook towards life and a commonsense approach towards everyday issues. He urged the students to be responsible towards their parents and teachers. He also engaged the students in some self introspection exercises, which was quite a new learning experience and an eye opener for the MBA students.
Prof. Makrand Joshi conducted the proceedings and introduced the guest. Prof. Avinash Bhowate and Prof. Rajni Kumar took special efforts for the success of the program.  Anil Sharma, (Secretary – Jaidurga Bahu-uddeshiya Jankalyan Sanstha) and Dr. Raaju Ganiesh Sunder, (Director), lauded the efforts of the Faculty team.