Nagpur: More than 600 posts of teachers are vacant in University but none of the university officials are neither taking any steps to fill up the posts and nor are they replying to the students queries. The Students Action Committee demonstrated on Monday in the Nagpur University premises demanding filling up of vacant posts.
The students have alleged that they cannot meet the Vice-Chancellor as Maharashtra Security Force personnels are posted there. Pramod Kanekar who led the demonstration said that the students have been barred from strolling in the campus. On asking the Physical Education Director, the students were given very stern reply that if they want to stroll they should go on highway. Kanerkar has also alleged that the university ground and Subhedar hall have become a source of income for university. The students said that from past 8 years they have been demanding new hostel for the boys and girls but the university administration has not taken any step in this regard. There is no common room for the girls. The students have also demanded that road on both sides of administrative building be opened.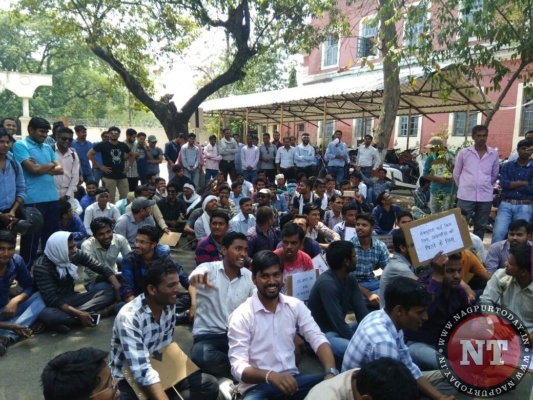 According to Kanekar the online valuation be stopped as cross valuation cannot be done through this process. The students hostel should be kept open all the 12 months as the students studying for competitive exams need to stay in hostel and study. The wi-fi facility be removed as since the time it has been installed it is not working. The work of constitution park has not yet started and there is demand that it should start on 14 April. They have also demanded Mahatma Phule memorial in Mahatma Phule education campus. The other demands include seminar room, round table, conference room, renovation of forum hall and sitting arrangement in Mahatma Phule education campus.
Wardhaman Rathod, Pramod Kumar, Kavya Chavan, Vinkesh Timande, University Students Secretary Dinesh Rathod, Ravi Samte and other students participated in the demonstration.