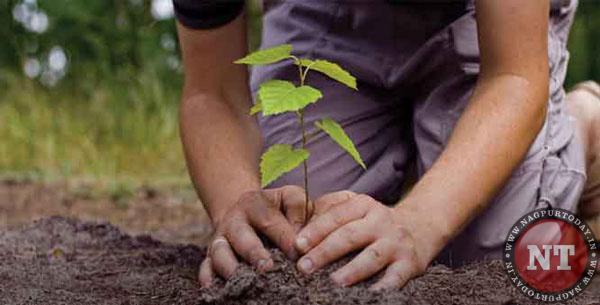 Nagpur: At a time when the drive against religious structures on footpaths and roads is making big buzz in Nagpur, here's a peculiar case of making a move against planting trees on road. NMC has issued a notice to Sudhir Paliwal for planting trees along the internal road in front of his Ramdaspeth residence. Paliwal, who is an activist and director of state government's flyash management company Mahagams, said he planted trees as part of nationwide mass tree plantation drive.
Paliwal said trees were planted as per provisions of Maharashtra (urban areas) Protection and Preservation of Trees Act. "NMC started construction of footpath on both sides of the road in our area a couple of years ago. But the work was not completed. I planted four Ashoka trees on July 20 in place adjoining my compound. Civic cops on July 25 served me notice asking to remove plants within 48 hours," he said.
The notice was issued by the health department of NMC Dharampeth Zone. Paliwal added plantation was mandatory on both sides of the roads as per the Act. "I replied to the notice on Thursday along with photographs of similar plantation along roads in many areas.
Many people have even fenced of such areas. There are big trees on footpaths across the city. Still, NMC served notice only to me," he said alleging conspiracy.
NMC official said notice was served as trees were planted on footpath. "There is a storm water drain under the surface where trees are planted. We are demolishing all encroachments on footpaths across the zone and no one will be spared," he said.