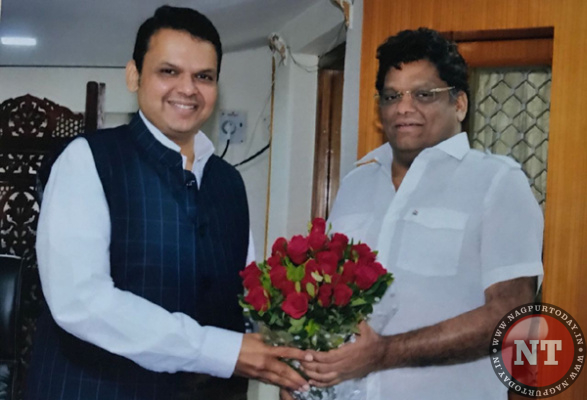 Nagpur: Dipen Agrawal President Chamber of Associations of Maharashtra Trade & Industry (CAMIT) called upon Devendra Fadnavis Chief Minister of Maharashtra and expressed his gratitude on behalf of CAMIT and traders of state for accepting CAMIT's representation and not extending last date for assessment of returns filed under amnesty scheme which was due on 31st March 2018 . This has saved traders from facing corruption & harassment further .
Dipen Agrawal also drew attention of Chief Minister towards the issue pertaining to effective date of LBT Corrigendum dated 06/07/2013 by UDD. He said Bombay High Court had given three months time to decide the issue as per law, which has lapsed long before and requested for just and equitable resolution of the matter. Devendra Fandvis was kind enough to direct his subordinate in strong words to address the issue in time bond manner.
Thereafter Dipen Agrawal highlighted the plight of industry and trade from Thane Municipal Corporation due to faulty interpretation by officers and denying the benefit of concession on raw-material which was available under Octroi regime and extended to LBT regime by State Government. The officers allowed concession only to dealers who used to avail the concession in earlier regime and refused to extend the benefit to new industry or who didn't avail the same earlier. CM was surprised to learn about such working of administration and assured that no rightful claim shall be denied of any dealer.
He also informed the Chief Minister about the harassment faced by the business community from Sangli Municipal Corporation due to ex-parte assessment orders and alleged rampant corruption. Devendra Fadnavis assured to undertake special joint meeting of administration and trade representatives shortly, to address these issues.
Issue of abnormal hike in rent of leased shops to small traders by Kolhapur Muncipal Corporation was also raised and discussed to which CM assured his intervention to resolve the matter at the earliest.
Dipen Agrawal once again thanked Chief Minister for patient hearing and instantaneous response to resolve the issues highlighted.