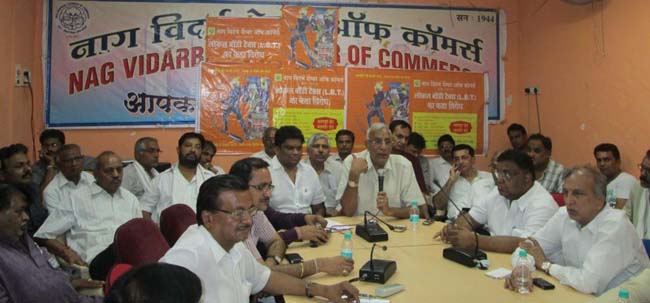 Nagpur News: Even as a section of traders in Maharashtra have agreed to call of their prolonged agitation against the Local Body Tax (LBT), Federation of Associations of Maharashtra (FAM) on Tuesday said the protest would continue till the government announces abolition of the new tax.
"Though the traders have opened their shops honouring the advice of Union Agriculture Minister Sharad Pawar, the stir against LBT will continue," FAM President Mohan Gurnani said in a statement.
Section of traders had agreed to call off the strike after a meeting with Chief Minister Prithviraj Chavan here last night. A delegation of FAM members had met Pawar on Sunday over the issue.
Meanwhile in Nagpur a meeting of LBT Virodhi Sangharsh Samiti was held today at NVCC hall . The members were of the firm opinion that protest against LBT should continue till abolition of LBT from the state. However in view of Bandh being suspended by FAM & Trade Organisations of other cities & keeping in view the assurance given by Hon'ble Shri Sharadji Pawar, Union Minister for Agriculture, to resolve the issue of LBT amicably in meeting with Hon'ble Chief Minister & Trade representative on 24th of May & also in view of certain relaxations granted by Hon'ble Chief Minister in LBT Act & Rules it was unanimously resolved to suspend the ongoing "Trade Bandh" till further call. It was also decided that till such time the issue is finally resolved amicably the traders shall not take any Registrations under LBT , nor make the payment of LBT till such time.
The meeting was attended by President / Secretary / Trade Representative of following associations : Manewada Road, Hudkeshwar Road, Rameshwari, Bhagwannagar, Manish nagar, Umred Road, Narsala Road, Kharbi Chowk, Nandanwan, Wathoda have closed their shops & joined in indefinite trade bandh. Following associations are supporting the indefinite trade bandh, Vidarbha Automobile Dealer's Assocation, Nagpur Consumer Products Distributor Association, Dharampeth, Sadar, Residency Road, Gittikadhan, Jaripatka, Khamla, Kamptee Road, Gokulpeth, Wadi, Bada Tajbagh, Manewada, Nandanvan, Jagnade Chowk Dukandar Sangh, Automobile Dealer's Association, Nagpur Timber Merchants Association, Nagpur Stainless Steel & Metal Merchants Association, Nagpur Hotel Owner's Association, Gaddigodam Dukandar Sangh, The Nagpur General Merchants Association, Stone Merchants Association, The Nagpur Footwear Wholesale Dealers Asson, Nagpur Wholesale Hosiery Readymade Garments Merchants Welfare Association, Nagpur Local Truck Owners Association, Nagpur Watch Dealer's Association, Nagpur Mill & Machinery Merchants Association, Sona Chandi Oli Committee. The Nagpur Itwari Kirana Merchants Association, Steel & Hardware Chamber of Vidarbha, Vidarbha Power looms weavers Mominpura, Sadar Golcha Marg Dukandar Sangh, Sitabuldi Vyapari Sangh (Madhya), The Oil Merchants Association, The Nagpur Itwari Malyali Merchants Association, The Wholesale Grain & Seeds Merchants Association, The Wholesale Cloth & Yarn Merchants Association, Vidarbha Computer & Media Dealer's Welfare Association, Vidarbha Dyes & Chemical Merchants Association, Vidarbha Dall Miller's Association, Vidarbha Plastic Industries Association, Vidarbha Plywood Merchants Association, The Paper Trader's Association, Printers Guild, The Nagpur Wholesale Poha-Murmura Merchants Association, The Nagpur Paint Merchants Association Nagpur Bardana Merchants Association Canvassing Agent's Welfare Association, Nagpur District Bricks Manufacturers Association, Nagpur Vehicles Broker Association, Octroi Free Zone Warehousing Co-operative Society Ltd. Nagpur Vehicle Hire Purchase Association, Vidarbha Fly Ash Brick's Manufacturer's Association, Vidarbha Rural Industries Asson, Kalmana Vyapari Association, Footwear Merchants Welfare Association, Nagpur Cooler Manufacturers Association, Bhartiya Swarnkar Samaj Assocation, Navyuvak Sarafa Association, Jagnath Road Merchants Assocation, Nagpur Vehicle Broker's Association, Maharashtra Swarnakar Sanstha, Nagpur Ceramic Wholesale Asson, Kalmana Adtiya Mandal, Aloo Pyaj Vyapari Sangh, Netajee Market Association, New Binaki Mangalwari Association, All India (Nagpur)Transport Sangh, Credai-Nagpur Metro, Sitabuldi Main Road (Lohapool) Vyapari Sangh, Sitabuldi Merchants Association, Central India Coal Dealer's Association, The Nagpur Chilies Merchants Welfare Association, Electronics Merchants Association, The Electrical Merchants Association, Nagpur Electronics Dealer's Association, Central India Surgical Dealer's Association, Home Appliances Merchants Association, Hardware Dealer's Association, Kalamna Dhanya Ganj Adtiya Mandal, Kelibag Road Vyapari Sangh, Megha Business C&F Super Dealer's Association, Nagpur Furniture Trader's Welfare Association, Nagpur Bidi & Tobacco Merchants Association, Nagpur Agro Dealer's Association, Nagpur Fire Works Dealer's Association, Nagpur Tea Merchants Association, Vidarbha Food Industries Association, Vidarbha Transport Commission Agent Association, Nagpur Vahi Utpadak Sangh, Travel's Association of Nagpur, Nagpur District Chemists & Druggist Merchants Association, Nagpur Tiles Association, Nagpur Tent House Asson, Swarnakar Ekta Vyavasaic Sanstha.
Shri Ramesh Mantri Convenor of LBT Virodhi Sangharsh Samiti & Shri Dipen Agrawal President NVCC thanked all member associations, all traders , Print & electronic media, Police Department as well as all others who directly or indirectly helped in the fight of traders against the implementation of LBT. Shri Mantri & Shri Agrawal also thanked the citizens of Nagpur who patiently supported us during the strike. We regret for the inconvenience caused to them.