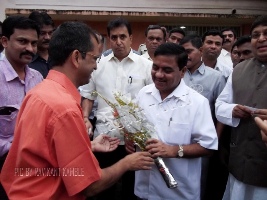 Nagpur : Electronic Media association and Nagpur police joined RR Patil State minister and Food supply Minister Anil Deshmukh as they handed over jackets to the Electronic media persons and their cameramen at Ravi Bhawan today at 5 pm.
Nagpur Commisioner of police Ankush Dhanvijay while handing over these jackets said that theses jacket will bridge the gap between policemen and Median and help both the parties to function better. This gesture will become a trend setter for the future that all i hope he added further.
The other Guest present were the chief of INIFD Sarvesh Agarwal along with the Electronic media association President Akhilesh Halve, Vice president Prashant Koratker, Vinay Shukal and Sunil Dage were also present.
By Ravikant Kamble
%%wppa%% %%slide=30%%