Nagpur News.
The State Government should not ignore Vidarbha and should work towards removal of regional imbalances and remove industrial backwardness of this region. The government should give additional subsidy to improve Industries in Vidarbha said MLA and Chairman of Vidarbha Statutory Development Board (VSDB) Prakash Dahake.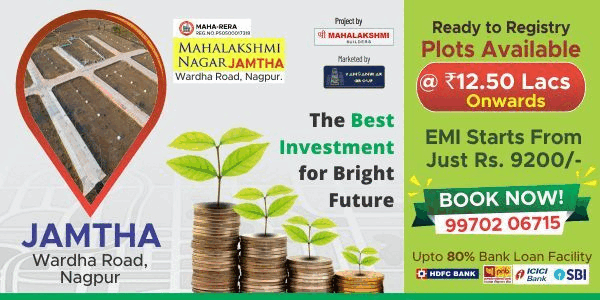 He said this when he was addressing the members of Nag Vidarbha Chamber of Commerce (NVCC) on December 2, 2013. He explained the different levels and growth potential of Industries in different zones in the state. According to they can be divided into 4 zone viz. A, B, C and D. He said that Nagpur and Amravati falls in the category of D zone. Mumbai and Thane belt come under the A and B zone where there is centralization of industries. If the Government gives extra subsidy to D zones areas, it would make way for industrial development in this region.
At the outset President of NVCC Dipen Agrawal welcomed the guests. Hon. Secretary of the Chamber Hemant Gandhi introduced the Chief Guest MLA and Chairman of Statutory Development Board of Vidarbha. President Dipen Agrawal gave floral welcome and presented shawl, shreephal and memento to MLA Prakash Dahake.
Prakash Dahake said that this issue was also taken up during the last Winter Session of State Legislature in Nagpur. A meeting was also conducted with Chief Minister Prithviraj Chavan and Industry Minister Narayan Rane. He added that of the total power generation, 65 per cent is contributed from Vidarbha. We want that State Government should supply 24 hours power to industries in Vidarbha as it would help time to deliver goods on time. While speaking about the the poor state of transportation facility, Dahake said that the road connecting from Nagpur to Aurangabad should be increased to four lane from two lane since it would increase the movement of vehicles. He also said that laying a railway line from Amravati to Washim and from Washim to Pune will be beneficial to the people and industrialist of the area. This will also aid in logistics of goods from Vidarbha to different parts of the State and make the Logistics network stronger, he opined. Any new investors will always look for a good infrastructure before he invests in Industries in any place. He added that his own constituency Karanja Lad will also be able to enjoy the fruits of development if his suggestions are followed.
He lauded the efforts of NVCC for bringing to fore the various problems of Vidarbha. NVCC should continue to give suggestions to VSDB and assist it in addressing various pressing issues.
VSDB has expert members, who would study the pressing issues raised by the NVCC and convey it to State Government.
President of NVCC Dipen Agrawal said that Maharashtra Government had appointed a fact-finding committee of experts under the Chairmanship of Dr V. M. Dandekar on August 3, 1983. The Committee undertook a sectoral study of backlog in nine developmental sectors namely roads, irrigation, village electrification, general education, technical education, health services, water supply, land development soil and water conservation and veterinary services, and submitted its report in 1984. The Committee had recommended that 85 per cent of the yearly budgetary allocations might be used for removal of backlog,
However, the recommendations are not being implemented by the State Government. Vidarbha has lower average of registered factories of about 370 per district as compared to about 1,500 per district in the rest of Maharasthra,. It has substantial potential for development. "Its rich resource base makes it a prospective destination for manufacturing sectors such as textiles, agro and food processing, mining, power, cement, steel and pharmaceuticals and fine chemicals.
At the same time, service sectors like logistics, tourism and IT/ITeS also have the potential to flourish in the region," Agrawal said.
Just to demonstrate the apathy of Government of Maharashtra towards this part of the state we request you to note that country's first textile mill popularly known as "Empress Mills" (Central India Spinning and Weaving Company Ltd.) was started by Tata group at Nagpur, was inaugurated on 1 January 1877, the day queen Victoria was proclaimed Empress of India. But now it is only on pages of history of Indian industrialization.
VSDB should strongly recommend that end to end production for cotton and other agro-produce should be promoted and value addition be done as close to the region as possible.The yearly arrival of key produce in the market in Nagpur is around 4.5 to 5 lakh tonnes per annum, VSDB should strongly work for creation of world class warehousing facilities in each district of Vidarbha region.Additional warehouse facility is also required to implement National Food Security in Maharashtra, VSDB should ensure that Vidarbha gets appropriate share in this infrastructure building.
Irrigation, which is a major emotive issue in the area, must be given due emphasis. Apart from the money which is due to Vidarbha region under backlog in irrigation, emphasis should be given to complete the on-going projects, he demanded.VSDB should strongly recommend the case for giving incentives and exemption from Excise and Income Tax on the lines of Himachal Pradesh and Uttaranchal so that region gets special status. It would woo investors, he added. It should also conduct study for tourism in the region and recommend massive investment. "VSDB create education facilities for girls and hostels for their safe stay in the vicinity of educational institution in all districts of Vidarbha region," Agrawal said.
Steps should be taken to create IT facilities/labs in all schools in rural parts of the region.
The programme was conducted by Secretary of NVCC Hemant Gandhi and Joint Secretary of NVCC Ashok Sanghvi proposed the vote of thanks.
Those present on the occasion included Govindlal Sarda, Ramesh Mantri, Jagdish V. Bang, past presidents of NVCC, Shakhar Bang, NCL leader, Narendra Londe, Avinash Patwardhan, Ratnakala Balraj, Sanjay Paliwal, Mayur Panchmatia, Ajaykumar Madan, Prakash Mehadia, Raju Vyas, Manubhai Soni, Sachin Puniyani, Chunibhai Shah, Arjundas Ahuja, Sanjayraj Modh Saraf, Farooque Akbani, Govind Mantri, Manoj Laturiya, Natwar Patel, Ramkishor Kabra, Madhusudan Agrawal, Rajeshkumar Ohri, Satish Bang, Sanjay M. Khule, Rakesh Mansata, Prabhakar Deshmukh, Pradeep Panjwani, Sanjay K. Agrawal, Dhiraj Maloo, Hastimal Kataria, Kamlesh V. Samarth, Narayan Toshniwal, Bajranglal Agrawal, Syed Nawab Ali, Rajesh Amte, Amjad Hussain, M. Aslam Khan, Dharamvir Sharma, Raju Vyas, Gajanand Mahajan, Dinesh Sarda, Yogendrakumar Agrawal, Ranjit Gaikwad, Vinod Verma, Sandesh Kanoje, Arvind Deshpande, Sunil Bajaj, Gopal Bhatiya, Dilipbhai Thakral, Mohammad Ansari, Arvind Kotecha, Samir P. Agrawal, S. H. Agrawal, Anil Ahirkar, Mahesh Bang, Vedprakash Arya, Juneshwar Peth, Shail Sayyed and others.
Shri Hemant Gandhi, Secretary conducted the programme and Shri Ashok Sanghvi, proposed vote of thanks states in a press note issued by Shri Hemant Gandhi, Hon. Secretary of the Chamber.