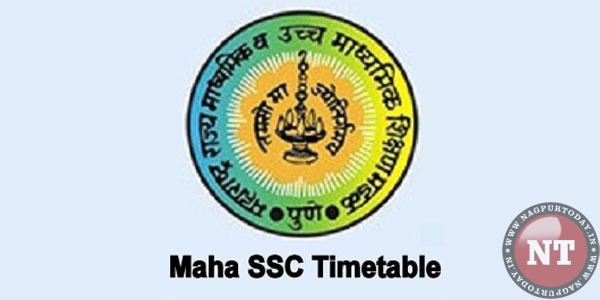 Nagpur: The Maharashtra State Board of Secondary and Higher Secondary Education (MSBSHSE) announced the timetable for Higher Secondary Certificate (HSC) and Secondary School Certificate (SSC) examinations. The HSC examination will begin on February 21, 2019 and end on March 20, 2019.
The SSC examination will start on March 1, 2019 and will conclude on March 22, 2019.
The timetable or date sheet for Maharashtra Board class 10 and 12 examination is available on the board's website -www.mahahsscboard.maharashtra.gov.in. If any student has any objections then that must be sent to the Board within 15 days.
This year, the Board has issued a separate time tablefor repeaters who will take the examination in the old syllabus as the SSC students will appear for the revised syllabus. The schedule for practical and oral examinations will be informed to the schools. The students can find the detailed date sheet on the official website 'mahahsscboard. maharashtra. gov.in' provided the date sheet or time table for Maharashtra HSC Board exam 2019 – Class 12 time table, Maharashtra SSC Board exam 2019 – Class 10 time table (Revised Syllabus) and Maharashtra SSC Board exam 2019 – Class 10 time table (Old Course).
Students can get the information by following the steps on the website:
-Visit the official website, mahahsscboard.maharashtra.gov.in
– Find the timetable link of 'Maharashtra HSC Board exam 2019 – Class 12 timetable, Maharashtra SSC Board exam 2019 – Class 10 timetable (Revised Syllabus) and Maharashtra SSC Board exam 2019 – Class 10 timetable (Old Course)'
– Click on the link
– MSBSHSE DATESHEET 2019 will appear
– Download the MSBSHSE Datesheet for HSC and SSC examination 2019 About Maharashtra Board (MSBSHSE). Students should not treat timetable appears on whatsapp or other social media as valid