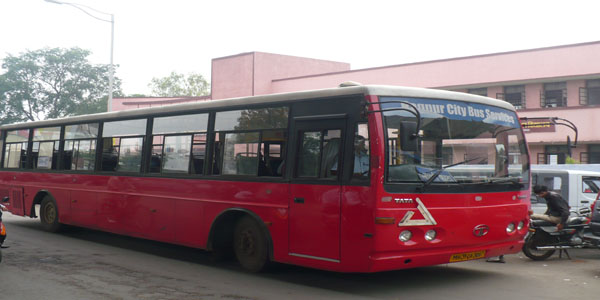 Nagpur News.
In a startling revelation, the drivers of Star Buses have alleged that the Subcontractor of the Company indulges in money-lending and also informed that the salaries are being paid at the end of the month. The drivers were talking to the media at the press conference organized by the Rashtrawadi General Kamgar Union. They further said that a memorandum to Mayor Anil Sole has been submitted in this connection and a complaint has also been lodged with the police against the subcontractors.
The Vansh Nimay Infrastructures Limited (VNIL) runs the Star Buses on city roads. The VNIL, with the intention of running the buses properly and better service to citizens, has given Sub-Contracts for the purpose. The VNIL hands over amounts of salaries of drivers and conductors to the subcontractors  on time but the drivers and conductors are paying their salaries between 25th and 30th of every month. The salary for a driver per day is Rs 309 but the Sub-Contractor pays Rs 280. A total of 28 drivers have directly taken the name of Sub-Contractor Shammi Karosiya for allegedly indulging in such practices, the media was informed at the press conference. Moreover, the Provident Fund amount of every driver is handed over to the Sub-Contractors for depositing in their PF accounts every month.  However, the PF amount is also not deposited by the Sub-Contractors. The VNIL , on its part, gives the salary amounts of drivers by 10th of every month. But the Sub-Contractors indulge in money-lending and makes salary payment by the month end from the interest amount, alleged the Star Bus drivers.
The Mayor's attention was drawn towards the disturbing fact a few days ago. VNIL was also apprised of the illegal practices allegedly indulged in by the Sub-Contractors. The drivers have also lodged a complaint in this regard with the Hudkeshwar police, the media was informed.