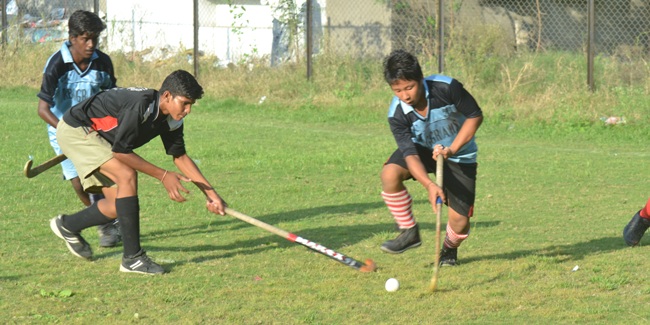 Nagpur News.
Tidke Vidyalaya, St. Joseph completed the quarter-final line-up with emphatic victories in the concluding league matches of VHA League Under-17 School Hockey Tournament.
The unbeaten St. Joseph School topped pool with a 3-1 win over Jingle Bell School which could not sustain the initial spirit in the game.
St. Joseph School displayed far more vigour and focus from the start of the game when they came up with some flowing moves that marked the first, second and third goals to dismantle the Jingle Bell's defence that caved in under ceaseless pressure.
The Tidke Vidyalaya beat Z.P High School 2-0 in their concluding league game to qualify for the quarterfinals.
Results :
 1st match
St. Joseph Vidyalaya beat Jingle Bell School by 3-1 goals.
Half time score 2-0
Full time score 3-1
Scorers for St. Joseph Vidyalaya
1st and 2nd goal by Pankaj Ghormade  on 14th min and 19th min.
3rd goal by Yash Jhadas on 35 min.
Scorer for Jingle Bell High School
1st and only goal by Furkhan Khan on 41st min.
2nd match
Tidke  Vidyalaya beat Z.P High School by 2-0.
Half time score 1-0
Full time score 2-0
Scorer for Tidke  Vidyalaya
1st goal by Azam Ali on 35 min.
2nd goal by Sayeed Farukh on 35 min.