Speeding crane driver kills biker near Chattrapati Square flyover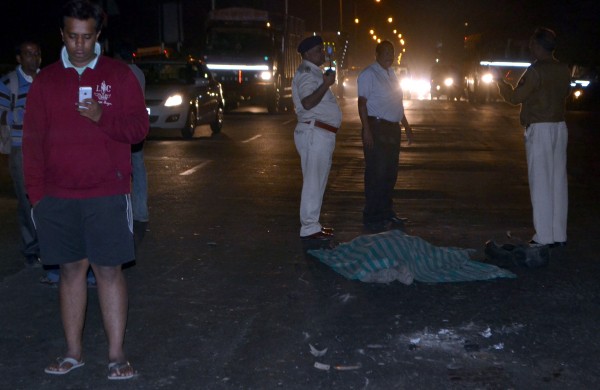 Nagpur News : A crane driver driving at high speed knocked down a biker dragged him to a few feet away and drove over him causing his death on the spot. The horrific accident took place on Wardha Road near Chattrapati Square flyover on Saturday evening. Till late night, police could not get the identity of the deceased.
Enraged over the rash driving by the accused, onlookers blocked the road resulting into traffic chaos for half-an-hour on the road till police reached. The situation was later brought under control by R P Nagar police that reached late at the crime scene.
Police has registered a case against the crane driver, whose name was withheld by police till them matter was reported to press. Police informed that crane driver had fled the spot with his vehicle while it was eye-witnesses who chased him and handed over to police.
The deceased is suspected to be aged around 35. According to the police, the victim was heading from Wardha Road to Chatrapati Square when a carne driver, driving at high speed knocked him near the end of Chattrapati Square flyover.
It was learnt that the crane even dragged the biker to a few distance and drove over him causing his death on the spot. No identity card was found from the deceased's pocket.