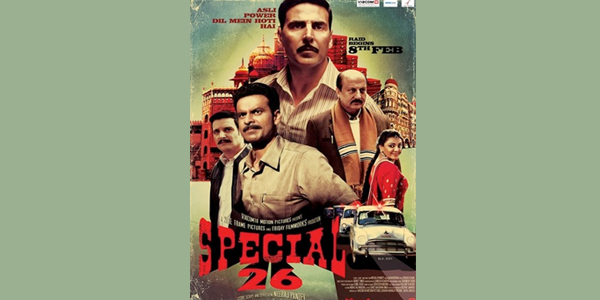 Director: Neeraj pandey
Producer: Friday Filmworks, Kumar Mangat, Viacom 18 Motion Pictures
Star Cast: Akshay Kumar, Kaajal Agarwal , Anupam Kher ,Manoj Bajpai ,Jimmy Shergill & Divya Dutta
Music Director: M. M. Keeravani , Himesh Reshammiya , Chandan Sharma
Genre : Thriller
Plot: It does have a good plot to begin with. Inspired from a real-life jewellery heist in 1987, the film is about a gang of con artists who masquerade as law enforcement officers to rob politicians and businessmen of their "black money" or undeclared wealth. Special 26″ does not rely on crude jokes or slapstick comedy and sticks to subtle humor.
Akshay kumar plays a role of a man who wanted to be a CBI officer and unfortunately gets rejected and he starts using his brains for robberies which are unbelievable to happen. His team has Anupam Kher, and two other artists who have probably not been given more than 3-4 dialogues in the film. Akshay kumar's Romance with Kajal Agrawal makes the film soften.
The show stealer is Manoj Bajpayee who plays the CBI officer chasing the impersonators. It's hard to take your eyes off Bajpayee in his turn as a ruthless investigator with deadpan delivery.
Music is not what the film counts on. Neeraj Pandey has tried his level best to show cities across country in their relevant times. From stars to Director everyone has done their job superb.
So what happens in this roller coaster you have to go and watch because "Special 26″ is special. It is thrilling, grilling and keeps the audience engaged, from beginning to end every scene is watchable.
Verdict: Before you finish your popcorn you will be con.
Paisa Vasool Entertainment.

:Yash Raj Trivedi