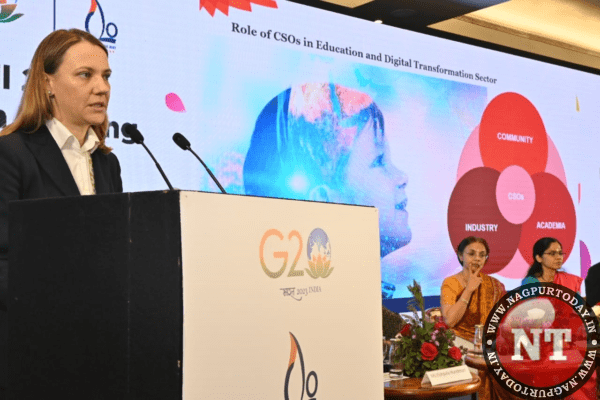 Nagpur: "Technology is the bridge between the real world and digital world. Its negative impact must be examined before adopting it. It is a good servant, but a dangerous master," said Dr Krishnashree Achuthan, Dean of Amrita Vishwa Vidyapeetham, at a Plenary Session of Civil 20 India 2 0 2 3 Inception Conference on Tuesday.
As she spoke about the importance of cyber security, she said, "Cyber pandemic would be far more severe than the COVID-19 pandemic." The fourth Plenary Session of the CIVIL20 India 2023 Inception Conference dealt with 'Civil Society Organisations as Drivers of Innovation and Technology' and covered Working Groups of Civil 20 including: Technology, Security, and Transparency; Preservation and Conservation of Traditional Arts, Crafts and Culture; Traditional and Innovative Ways of Livelihood and Employment; Education and Digital Transformation along with the Special Committee on Financial Issues.
The session was chaired by Ambassador Vijay Nambiar, Sherpa, Civil 20 India, 2023. The speakers for the session were Alison Lynn Richards, Director, Intel Corporation; Jaya Jaitly, President and Founder, Dastkari Haat Samiti; Veronika Soboleva, Director of Development at International Collegiate Programming Contest (ICPC) Global Foundation; Binny Buchori, Member of the Civil20 India 2023 International Advisory Committee; and Vishpala Hundekari, founder of Ekibeki.
The coordinators of these Working Groups, who also spoke during the session, are Dr Krishnashree Achuthan, and Dr Prema Nedungadi, Founding Director at Amrita CREATE along with Deepti George from Dvara Research, also the convenor of Special Committee on Financial Issues.
Speaking on the issues of cybers ecurity, Alison Lynn said, "There are downsides to it with cyber attacks on the rise. AI is also being used for disinformation and fake news." Binny Buchori emphasised that even with advancements in technology, there are still nations which are left behind. "We needed to acknowledge the digital divide caused due to unequal access to finance," she added.
On the preservation and conservation of traditional arts, Vishpala Hundekari said, "Around 200 crafts in India are endangered. Crafts should be used as tools of social change."