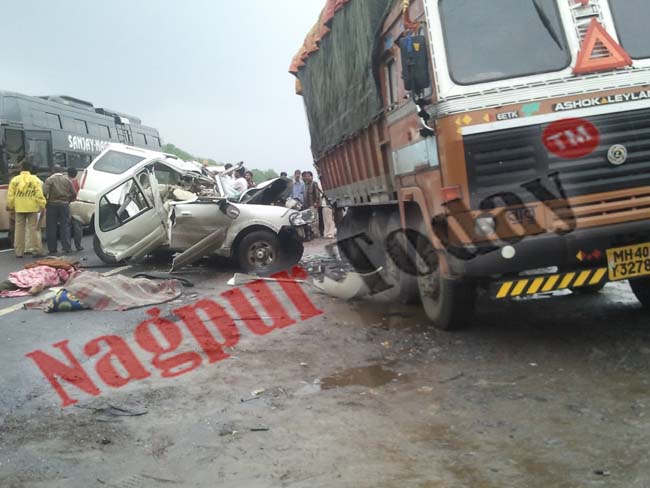 Nagpur News: In a ghastly road accident, 5 persons, including a Samajwadi Party leader, were killed and three others were injured seriously.
According to reports, the gory accident occurred at 6.30 in the morning just  7 kilometers away from Kondhali on Amravati Road. The Tata Safari the persons were travelling in dashed a stationary truck with such an intense impact that the persons died on the spot with their bodies showing a horrible picture. The injured three persons including the driver of the Tata Safari have been admitted to different hospitals. While the driver has been admitted to Government Hospital in Nagpur, the other two have admitted to Kondhali General Hospital.
According to police, the persons Narendra Ramkinker Singh (45), resident of Saheb Batiyabadi, Allahabad, UP, Pratibha Budhasingh (69), the chief Bhagesar Korav Gram Panchayat, UP, Dharmraj Singh Yadav (70), retired Armyman, Naresh Kumar  Yadav, a Samajwadi Party leader, Priya Buddhadeo Singh (8), Prateek Buddhadeo Singh (10), and Priti Buddhadeo Singh (12), left Allahabad in the Tata Safari (UP-70/7059) for Shirdi-Mumbai  tour along with the driver Sandeep Kumar Pande (27) also a resident of UP.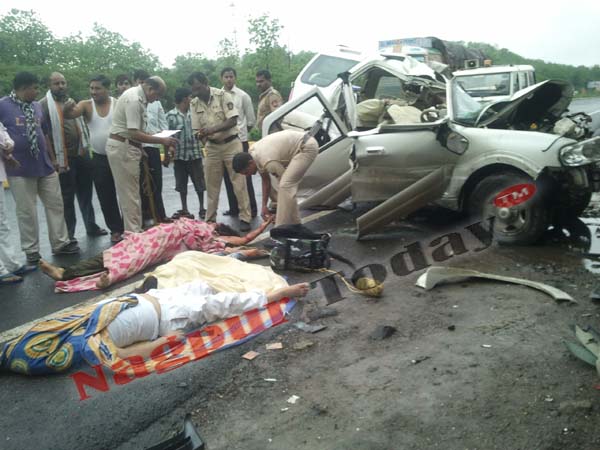 After Shirdi-Mumbai visit, the persons left Mumbai on June 24 on way to Allahabad. In the wee hours, when they reached Ringanabodi village, just 7 kilometers away from Kondhali, and 50 kilometers from Nagpur, the driver Pande could not spot the stationary truck due to heavy rains and rammed the truck with great force. The witnesses said, the Tata Safari was speeding with 120 kmph and the driver could not control the Tata Safari when he must have seen the stationary truck.
The deadly impact left five occupants dead on the spot with mutilated body parts and the head of a person was separated from the body. Only the driver Pande, Prateek Singh, and Priti Singh survived the impact leaving five others dead on the spot.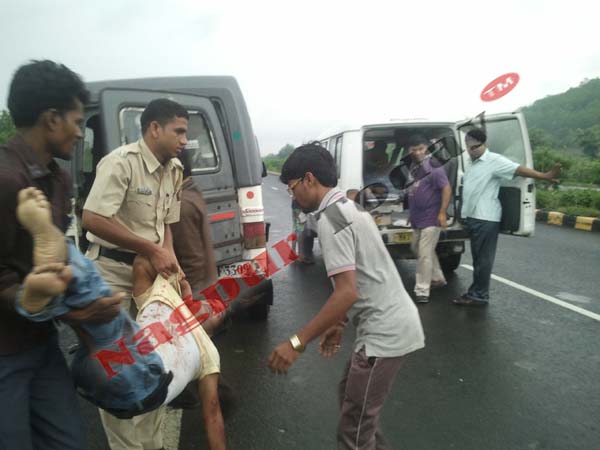 Dharmaraj Yadav, who was seated beside the driver, lost his head with the impact, and other four persons died a very painful death. At the same time, Prakash Gujar and Bapu Revatkar  the MSRTC bus drivers, rushed to the spot and pulled out Prateek, Priti, and the driver Pande by breaking the glasses of the Tata Safari. The dead were trapped badly and it took one and a half hours for police to retrieve their bodies. Police surmised the the driver fell asleep for few moments and as a result rammed the truck.