Sony launches digital voice recorder PCM-A10 for supreme sound and superior recording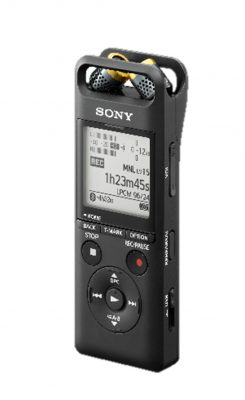 Capture in superb High-Resolution Audio quality
Adjustable microphones to suit a range of recording situations
Enjoy jaw-dropping sound quality
Small and lightweight design
Optimum sound levels at the touch of a button
Wireless playback through your BLUETOOTH® headphones or speakers
Control recording, and adjust settings, with your BLUETOOTH® smartphone app
New Delhi:  Sony India today announced a new addition to its voice recorder range with PCM-A10. In addition to the array of features, the PCM-A10 is a premium offering from Sony which provides high quality and reliable recording with superior voice clarity.
Capture in superb High-Resolution Audio quality
Enjoy every recording on PCM-A10 in High-Resolution Audio quality, whether it is practice time or performance time. High-Resolution Audio tracks are of far higher quality than MP3s and even CDs, letting you hear every breath, every drumbeat, every note so you always get the full listening experience as recorded in the studio. Record and play with absolute precision. Capture songs and sessions in better than CD sound quality and enjoy everything you've recorded in High-Resolution Audio.
Adjustable microphones to suit a range of recording situations
The new PCM-A10 supports adjustable microphone setting. The zoom setting captures conversations with optimum clarity and is perfect for small business meetings or tutorials. For solo performances or small band sessions, the XY setting with performers close to the microphone offers natural sound and depth. Use Wide stereo for outdoors and capture a variety of different sounds, giving a sense of realism and spaciousness. Now record high quality audio from a range of situations and play them back with crystal-clear precision.

Enjoy jaw-dropping sound quality

With PCM A-10 it is like going from standard definition to HD video, High-Resolution Audio tracks are far higher quality than MP3s and even CDs, letting you hear every breath, every drumbeat, every note. So, you always get the full listening experience as recorded in the studio. In Linear PCM recording it capture sound at up to 96kHz/24-bit, a serious step up from the 44.1kHz frequency and 16-bit rate of CD. With FLAC lossless audio playback, enjoy lossless audio with the clarity and dynamics that the artist intended, with FLAC playback support.

Small and lightweight design

Now experience the power packed performance of PCM-A10 in a small and lightweight body weighing approximately 82g. PCM-A10 is compact and light and offers 15 hours of battery life, making the new PCM-A10 ready to perfectly capture your performance when you hit record.

Optimum sound levels at the touch of a buttonPCM A-10 is a sound engineer in your pocket, activate the Rehearsal function while you're warming up, and the recorder will automatically adjust the recording levels to match your playing – pre-set and ready to perfectly capture your performance when you hit record. You can also control this wirelessly from the REC Remote app.

Wireless playback through your BLUETOOTH® headphones or speakers

Relive your recordings in high quality on your BLUETOOTH® devices. Simply connect via

one-touch of NFC technology and listen to supreme sound using your headphones and speakers.

Control recording, and adjust settings, with your BLUETOOTH® smartphone app

With the REC Remote app, available on Google Play for Android or the App Store for iOS devices, start and stop recordings, adjust levels and settings, and even add track marks, all using your smartphone. The app lets you control your recorder wirelessly using BLUETOOTH® technology.

Price and Availability

PCM-A10 is a premium voice recorder and will be available across Sony retail stores (Sony Center and Sony Exclusive), www.ShopatSC.com portal and on Amazon portal in India from 1st March 2021 onwards.

| | | |
| --- | --- | --- |
| Model | Best Buy | Date of availability |
| PCM-A10 | Rs 18,990/- | 1st March 2021 onwards |