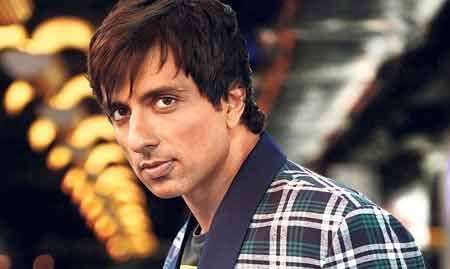 Actor Sonu Sood was missing with the star cast of "Shootout at wadala" to promote the movie at Nagpur as he was busy dubbing for his next film. He has just finished dubbing for director Prabhudheva`s upcoming film 'Ramaiya Vasta Vaiya' and says the movie looks "fabulous".
Sonu Sood will be seen playing Shruti Haasan`s strict brother in the movie, which also marks debut of producer Kumar Taurani`s son Girish Kumar.
Sonu posted on his Twitter Sunday.
"Yesterday (Saturday), dubbed for `Ramaiya Vasta Vaiya`. Looking fabulous. Congrats Girish Kumar, Kumar Taurani. Prabhudheva rightly said, `Conviction pays.`,"
Meanwhile, the actor, who recently recovered from a fractured leg, had to cancel his visit to the capital as he is nursing a swollen leg.
On his present fitness he said "Woke up with a swollen leg. Advised by doctor not to travel and give rest, was so looking forward to going to Delhi, but now have to cancel (the travel plan),"
Sonu was to join the team of forthcoming movie "Shootout at Wadala", who will be in Delhi to promote the movie.
Also starring John Abraham, Anil Kapoor, Tusshar Kapoor, Kangna Ranaut, Manoj Bajpayee, Ronit Roy and Mahesh Manjrekar, the underworld crime thriller to release May 3.
Well we wish this Engineer –Actor Best wishes for his upcoming.
Yash Raj Trivedi