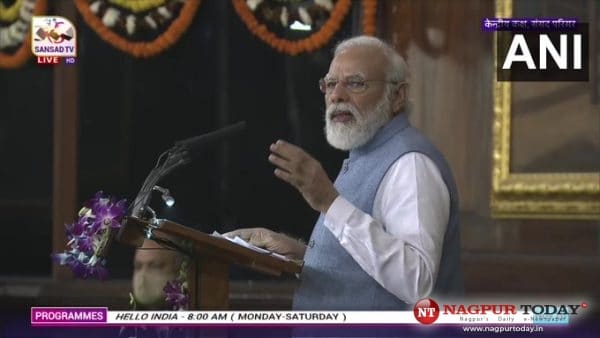 PM Modi addresses Parliament on Constitution Day.
Constitution Day is celebrated in the Central Hall of the Parliament
President Ram Nath Kovind, Vice President M Venkaiah Naidu, Prime Minister Narendra Modi, Lok Sabha Speaker Om Birla and others are taking part in the event.
"Today on the anniversary of the 26/11 terrorist attacks in Mumbai, I pay tribute to all brave soldiers of the country who sacrificed their lives while fighting the terrorists," the PM says.
"Constitution Day is the day to salute this House, where many of India's leaders brainstormed to give us the Constitution of India. We also pay tribute to Mahatma Gandhi and all those who fought during India's independence struggle.
"Our Constitution binds our diverse country. It was drafted after many hindrances and united the princely states in the country.
"The PM's barbs against political parties, primarily the Congress party, a constant in every speech.
He says, "Constitution Day should have been celebrated each year after 1950 to educate all about what went into the making of the Constitution. But some people did not do so. This day should also be celebrated to evaluate whether what we do is right."
"During this 'Azaadi Ka Amrit Mahotsav', it is necessary for us to move forward on the path of duty so that our rights are protected."