Maharashtra Institute of Technology Aurangabad ( An Autonomous Institute ) , has arranged online Expert Talk of Dr. Sanjay S Uttarwar , Renowned Academician and social worker from Nagpur on topic " Importance Of Soft Skills In Career " for students and staff of MIT Group of Institutions and other institutes on google meet. Dr. Sanjay UttarwarNationally renowned academician and Ex Principal of G H Raisoni College of Engineering and Management was invited speaker for FDP . Majority of Staff and studentswas present for his talk.
Organiser Prof. Swamini Chopra has introduced speaker to the audience. Dr S P Bhosle Director, Dr A J Keche HODMech ,Prof. P T Borlepwarand majority of staff and students were present during experts talk. Experts talk starts with the present condition of academic field and necessity of inculcating soft skills with every individual.Speaker share importance of soft skills with gathering. He gave brief idea about societies expectations from teacherand Engineer as a whole.
Dr Sanjay S Uttarwar is a renowned Academician of central India and in this field since last thirty three years. He has proved his expertise by serving renowned educational groups of Maharashtra and MP.
In the beginning of his career he was Entrepreneur and was having his manufacturing unit in MIDC Yavatmal. In 1995 he switchover to teaching line and has started his career as a full fledge teacher at BNCOE SevagramWardha. Later he shifted to Nagpur and has done Post graduation and PhD from Visvesvaraya National Institite of Technology Nagpur
In Mechanical Engineering. He has served renowned educational groups from Maharashtra and MP in various Capacities. From Last eight years he is working as Principal of Engineering College. He is recipient of seven National and International Level Awards for his outstanding contribution to the field of academics and research. He has visited UK, Singapore, China to present research papers in International Conferences. He is having sixty research papers to his credit which are published in International Journals and Conferences. He is a renowned Motivational Speaker from region and is frequently invited by TV Channels, Radio and Educational Institutes for delivering lectures on various motivational topics. In addition to it he is a popular singer from Nagpur and has performed at various musical concerts which took place at auditoriums of Nagpur.
In his delivery Dr. Uttarwar high light the life the importance of soft skills in career with examples. He elaborate the importance of acquiring soft skills to the audience. He gives tips to the audience regarding effective applications of soft skills. He says that work should be treated as mission in hand rather than routine boring task. Teacher should constantly update himself or herself to fulfill demands of todays smart generation. Todays students are very smart and they easily understood the situation. Todays young generation is computer and mobile experts . They know how to do its effective use of it but they didn't give heed to softskills. While explaining his role as a soft skills trainer , he says that we are in need of realize the importance and frequent use of soft skills in life.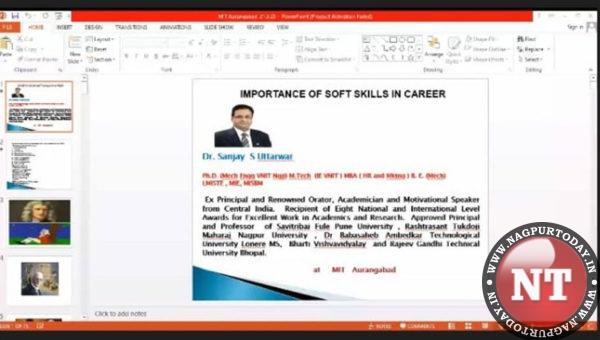 Dr. Uttarwar further says that, The world is undergoing rapid changes in the knowledge landscape. With various dramatic scientific and technological advances, such as the rise of big data, machine learning, and artificial intelligence, many unskilled jobs worldwide may be taken over by machines, while the need for a skilled workforce, particularly involving mathematics, computer science, and data science, in conjunction with multidisciplinary abilities across the sciences, social sciences, and humanities, will be increasingly in greater demand.
At the same time students should be well equipped with all sort of softs kills to face challenge which came in the path of success. He further gives seven tips to gathering for how to increase self confidence. He explain its importance with suitable examples. The gap between the current state of learning outcomes and what is required must be bridged through undertaking major reforms that bring the highest quality, equity, and integrity into the system.
Later Dr. Uttarwar explain the importance of attitude in life. He explains various types of of attitude and elaborate its impact on our career. During his motivational delivery, Dr. Uttarwar recite a popular quote in hindi and received lot off applaud from audience.Dr A J Keche HOD , ,Prof. Swamini Chopra , in their concluding remarks, talks about the present scenario of academics and urge gathering to acquire softs kills for their success in life.
Later on Question and answer session Dr. Sanjay Uttarwargave answers to the questions asked by audience, students and staff present for expert talk. participants Asks their doubts for betterment of their personality. Audience enjoyed and loudly appreciate the delivery of Dr. S SUttarwar and gave thanks to him for throwing .light on importance of soft skills.Dr S P Bhosle Director, Dr A J Keche HOD ,Prof. P T Borlepwarexpress her gratitude towards Speaker. Prof Swamini Chopra propose Vote of Thanks.