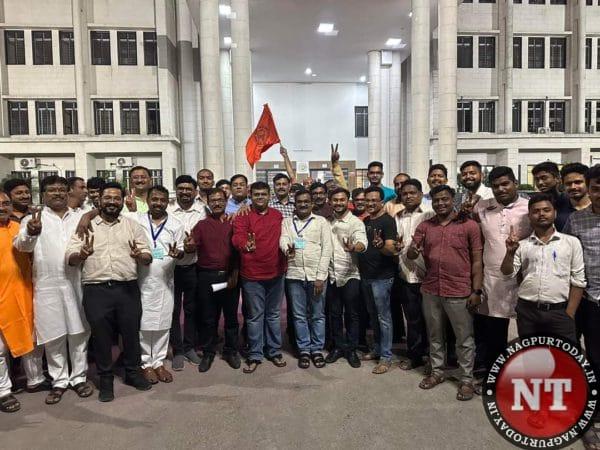 Nagpur: The Maha Vikas Aghadi (MVA) suffered a defeat in Rashtrasant Tukadoji Maharaj Nagpur University's graduate constituency polls on Wednesday. Earlier, it had lost Senate and Management Council elections to the saffron coalition in November last year.
The Akhil Bharatiya Vidyarthi Parishad (ABVP) registered a grand victory in Senate polls held for the 10 seats of Registered Graduates of RTMNU as it clinched all five categories seats. The counting for five seats of Open Category was underway and ABVP's four candidates were leading. MVA that had created much hype is struggling to win one seat in Open Category to save its face.
The counting began on Tuesday, but the process is a bit complicated. Though the process began at 10 am, the sorting finished at around 7 pm. Afterwards, quota for different categories was finalised. There are five seats in Reserved category viz SC, ST, OBC, VJNT and Women. For SC, the quota was fixed at 6,250, for ST it was 6,242, OBC — 6,250, VJNT — 6,262 and for Women — 6,250.
In the SC category, Prathamesh Fulekar of ABVP, who secured 5,687 votes, defeated his closest rival from MVA Kunal Patil (3,138 votes). In ST category, Dinesh Sheram of ABVP got 5,041 votes while Mukesh Pendam of MVA polled 3,766 votes. In the OBC category, ABVP's Sunil Phudke won the election by securing 4,760 votes. His closest rival Dinesh Dhote of MVA got 3,776 votes. Waman Turke, a candidate of ABVP in VJNT, registered victory by securing 4,808 votes. Khimesh Kumar Badiye of MVA garnered 3,388 votes.
In the Women category, with 5,138 votes, Roshni Khelkar of ABVP stood victorious. She defeated MVA's Kiran Ajbale who secured 3,808 votes. Prathamesh Fulekar secured the highest votes — 5,687 followed by Roshni Khelkar who secured 5,138 votes. Both were much ahead from their rivals since the beginning of the counting of votes. Of the 13,949 votes, completing the quota was difficult for every candidate. Dinesh Sheram came on third, Waman Turke on fourth and Sunil Phudke stood at fifth in terms of highest winning votes.
Kunal Patil and Dinesh Dhote were fielded by Yuva Sena (Uddhav Balasaheb Thackeray) in Reserved category while Madhuri Paliwal also of Yuva Sena, a part of MVA is struggling to stay in the race. All three candidates were fielded at the last moment after Varun Sardesai, the top leader of Shiv Sena (UBT) insisted on their names. Of the five candidates of ABVP who won, two– Dinesh Sheram and WamanTurke won polls for second term. Remaining three have their first term.
Senate Parivartan Panel had fielded SC- Ankit Raut, ST Rajendra Maraskolhe, OBC Snehal Tajne, VJNT- Dashrath Jadhav, Woman- Sheikh Shabina Anjum in reserved category while Atul Khobragade's Yuva Graduate Forum had fielded SC- Sachin Mekale, ST- Devendra Taram, OBC- Umesh Korram, VJNT Ramesh Rathod, Woman Ranjana Surjuse. But they could not impress the voters.
In the Open category, counting was on. ABVP's four candidates Vishnu Changde, Manish Wanjari, Ajay Chavan and Nilesh Gawande were leading.