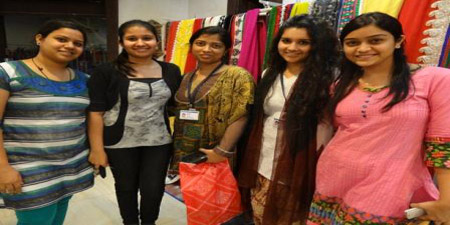 Sneha Agrawal is a simple Marwari lady, with a five- year old boutique called 'Shree Radhey' at home. She had an exhibition at Gondwana Gallery, Ramdaspeth on 30th October.
Keeping the festive season and the upcoming marriage season in mind, she had a Love Collection personally
supervised and bought from Kolkata. It's something out of the box. Chiffone saris, bed sheets from Kolkata ,
Aero- soft footwear, some diamond jewellery, envelops, kurties, leggings, handbags, coin bags, bangles,
sari covers, blouses pieces were also there apart from lovely, heavy designer dresses and saris. It was a
different and exclusive collection. Her collection is updated every three months.