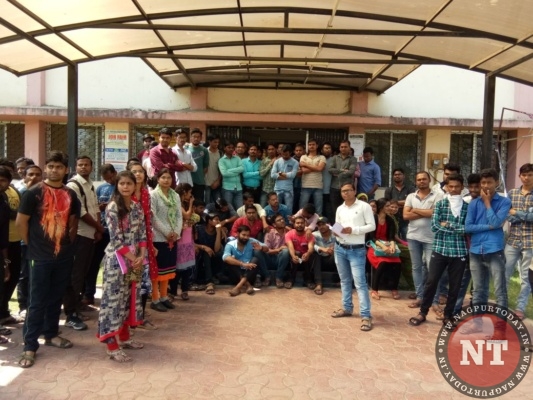 Nagpur: Dr A P J Abdul Kalam Free Skill Development Training Center – E Library, is being run under the Nagpur Municipal Corporation at Workshop Bhavan. A few days ago, the students used to go here paying Rs 150. But here there is no facility of cleanliness, drinking water, heat protection. Despite this, on the order of local BJP Corporator Satish Holey the fee was raised from Rs 150 to Rs 400. Members of the Aam Aadmi Party's Students Union Students' Youth Action Committee said that there is nothing in the name of convenience in the center.
According to the information, the Students' Youth Action Committee, on February 23, had submitted memorandum to the Assistant Commissioner of Hanuman Nagar Zone demanding to reduce the fees. Soon after this, the local Corporator gave oral orders not give permission to students without taking 400 rupees. This angered the students because students' tiffins, water bottles, books and bags were in the room, for about one and a half hours and after this they returned their things. But the library was not opened. After which the student union activists helped the students studying here.
The Organizer of the Students' Youth Action Committee, Krutal Aakre said, on one hand the Prime Minister announces free skill development while on the other hand local Corporator is demanding money for the scheme introduced free for the students. Students are being deprived of education. Students' Youth Action Committee members have threatened to agitate if the library is not started free for students in two days.