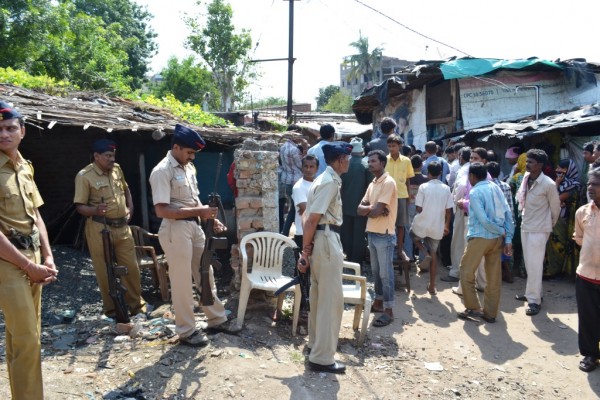 Nagpur Crime News: Notorious goon Sheikh Akram alias Bhuru, who had managed to escape from a crowd of hundreds of murderous slum- dwellers last night, surrendered to Sitabuldi police since he feared for his life. His brother and fellow criminal, Sheikh Iqbal, was beaten to death by the same mob. According to the slum residents, Sheikh Akram is said to be main goon in the entire episode.
The police have recovered one desi katta, two swords and a host of other weapons from the Sheikh brothers' adda in Vasantrao Naik slums. There was an attempt by slum- dwellers to block the road this morning. The situation is still extremely tense, and that is the reason being given by Police Inspector Jadhav and DCP (Deputy Commissioner of Police) Kailash Kanse for not having made any arrests yet.
The day after the gruesome murder, horrific tales of the terror spread by the two brothers in the slums are coming to light. Slum residents allege sexual harassment and rape on a constant basis by the two brothers. The situation had worsened to such an extent that young girls were being sent back to their villages to study, for fear of their safety. A large proportion of the sum-dwellers have been harassed and threatened of dire consequences if they reported the crimes against them.
Residents of the slum alleged that the goons used to pay lakhs of rupees to Sitabuldi Police Station, who in return would turn a blind eye to the wrongdoings. The crime that took place last night was a result of sheer helplessness and frustration. The situation at the slum is said to be tense as the slum dwellers were not permitting the police to dig up the body of a murdered individual for exhumation. The slum dwellers had demanded the custody of Sheikh Akram only after which would they permit the police to dig the body out. The body  is said to have been dug out.  More information will be updated as and when we acquire the details.