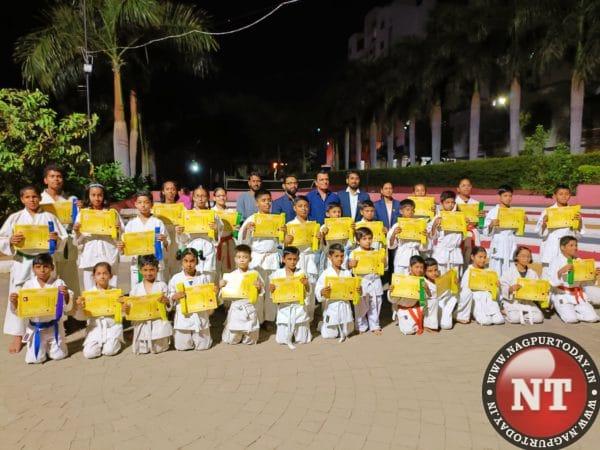 Nagpur: Karatekas of Shyam Karate Academy (SKA) did the institution proud by successfully clearing Belt Exam organized recently by Shyam Karate Academy with the support of Sumangal Vihar Society under the banner of NSKA Nagpur district on March 18, 2023 at the premises of Sumangal Vihar Society.
The examination was conducted under the supervision and guidance of Sensei Sanjay Ingole (NSKA Technical Director) and Chief Examiner was Sensei Mohit Pandiya assisted by Sensei Parag Mule.
All students gave credit to their coach Sensei Shyamsundar Verma, Director and Chief Instructor of Shyam Karate Academy, Sensei Roshani Chavhan Head Coach, and Sensei Rushabh Gharde Branch Instructor of SKA.
Students were supported by President, Secretary, Treasurer and all the members of Sumangal Vihar Society.
Results: The successful Karatekas are:
YELLOW BELT: Abhigyan Singh, Arjun Pathak, Dhruv Pandey, Parth Patel, Maulik Suryawanshi, Ishit Veer, Laksh Burbure, Srujan Sambare, Divyanshu Urkudkar, Vedant Wagh, Om Mishra, Ansh Mishra, Arnik Shrivastav, Saksham Wankhede, Laksh Yadav, Sanvi Kela, Aadhya Kumari, Aadhya Agrawal, Sharyu Pathak, Runmai Dongre, Shravya Lakkangav, Swara Lolusare, Arnavi Khobragade, Ira Weer.
GREEN BELT: Komal Sayam, Malhar Shrikhande, Advik Khapre and Karina Chandanshiv.
BLUE BELT: Ritesh Ray, Shubhankar Dhal, Niranjan Samantaray.
PURPLE BELT: Athrav Kadoo.