Shun Jungle Raj, and vote for Vikas Raj: Modi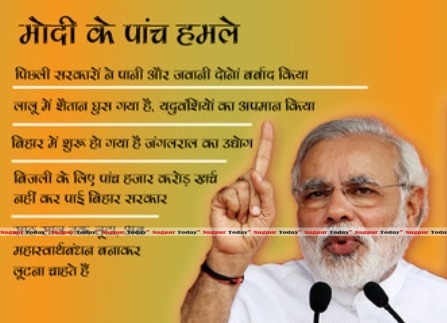 Munger/ Nagpur: Prime Minister Narendra Modi will be addressing as many as four rallies in Bihar. During his first rally in Munger on Oct 8, he, without mentioning the name of Lalu Yadav, made a scathing verbal attack, "Shaitan ko pure desh mein kya, puri duniya mein, inka hi address kisne de diya (What to talk of the whole country, who gave his (Lalu's) address to Satan in the entire world?)." These remarks are in reference to Lalau Yadav's calling Modi as Satan (all during electioneering in Bihar).
Lalu has insulted Yaduvanshis in Bihar
Modi further said that he was born in Gujarat where Gandhi was born. Lashing Lalu Yadav, he said that Yaduvanshis in Bihar are being insulted, what all are they eating?–These are the Yaduvanshis who had placed him (Lalu) on power. In fact, Satan has entered into Lalu Yadav who has recognized him (Lalu) just as we recognize our relatives or near ones. Therefore, can such people have any place in Bihar? he asked the gathering of voters of Bihar.
Sarcastically, Modi said, we thought our fight was with human beings, but now we have come to know that we have to fight with Satan and his devils; these fellows have looted Bihar for 60 years; and now they have made Maha-swarth-bandhan (ironical name for Mahagathbandhan or Grand-Alliance) to seek opportunity to loot Bihar again. He also referred to Ahankar (ego) in public life and said, how much dangerous 'ego' is, the public of Bihar knows it. He said, the public remains quiet, but shows its power at the right time. According to him, as Lok Sabha witnessed the fate of Congress, Bihar would also witness the same fate of Congress and its allies in the coming elections.
Mungeri has given 'modern yoga' to the entire world
Modi reminded the gathering, as, the Yoga of Munger has attracted the whole world towards it by modernizing yoga as a science. Recalling October 8, as significant date, he said, "We had lost people's leader Jayprakash Narayan (Babu) on Oct 8, 1979, and 'this is the reason why I chose this day for Bihar electioneering.' No one had ever thought that Jayprakash Babu would leave us so soon." He also recalled the days when Jayprakash Babu was sent to jail by Congress, and said, "What an unfortunate situation? Those who used to once sing the songs of Jayprakash Babu, are today sitting with Congress. It is nothing but selfish politics; and though Ram Manohar Lohiya fought through out his life against Congress ideology, his supporters are critical about BJP."
Nand Lal Bose paid tribute
In his address, Modi paid tribute to Munger's son, Nand Lal Bose,  who had given a new colour to the Constitution with 22 pictures and its beautiful lay-out. He expressed his confidence that the youths of Bihar would change the fate of Bihar which is rich in terms of arts and culture, and which is looked upon by the whole country. He also remembered the national poet Ramdhari Singh 'Dinkar', a noted son of Munger, and lamented, the leaders of Bihar today have forgotten the national poet.
Jungle Raj has started raising its head
The statistics from January to July this year are showing that Jungle Raj has grown up like an industry, and official figures vouchsafe it for 4,000 kidnappings, said Modi, asking the gathering whether the days of kidnapping should return. He also recalled the days of festivals like Durga Puja, Diwali, Ram Leela and so on when the people feared to move of their houses during nights. People used to miss Ram Leelas due to fear of kidnap and murder. Even those who bought new vehicles also feared due to Jungle Raj, he pointed and demanded that the voting in Bihar must be done in favour of  Vikaj Raj (rule of development), and not deplorable Jungle Raj.
Both water and youth were wasted by previous governments
Praising the water (pani )and youth (jawani or youths) of Bihar, Modi lamented that previous governments could not make use of them and just wasted them–youths migrated to other places for their future–but now we have to speed up the carriage of development. He questioned the fate of 11th and 12th Five Year Plans, and said, the Chief Minister had promised to provide electricity by year 2010, and also committed that he would not ask for votes if he failed to provide electricity to people. He informed the gathering that Bihar government was given Rs 8,000 crore for electricity generation, but the government could spend only Rs 1,300 crore. He criticized the Bihar government that it neither has the capability to spend the allotted fund nor has the intention to do so.
Observing the presence of large gathering of voters, he said he could surmise what was going to happen in Bihar. He told the people that he had never seen such a big rally even in Gujarat during morning hours, between 10 and 11 am. He said, "I am surprised how you all have come in so many numbers." This shows the direction of the winds, and it is for the first time that the youths in Bihar would be showing their power of vote, because they are at the centre of entire politics, and for the first time the election is development-focused.