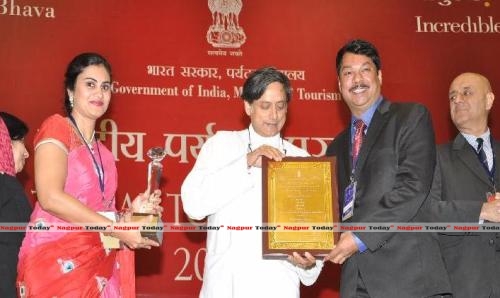 Nagpur News.
National Tourism Award for the year 2012-2013 was conferred upon Shreya Travels, Nagpur in the category of Tourist Transport Operators (Category III) second prize for outstanding achievement and contribution to the promotion of tourism in the country.
Shashi Tharoor Union Minister for HRD was the chief guest and he gave away the awards. Pravez Dewan Secretary Ministry of Tourism, presiding over the function.  Manisha Vijay Golchha properitor and Capt Vijay Kamal Golchha CEO Shreya Travels received the award on behalf of the company.

Shreya Travels, Nagpur is only company from Maharashtra to receive National Tourism Award from Travel Trade. Pune Heritage Walk, Maharashtra got award for Best Heritage walk.
This is the third award to Shreya Travels. Last year Shreya Travels, got National Tourism Award 2011-2012 at the hands of  President of India Pranab Mukerjee and Tourism Minister Dr K Chiranjeevi. For National Tourism Award 2010-2011 Shreya Travels got the award from the then President of India Pratibha Patil.
The Ministry of Tourism, Government of India annually presents National Tourism Awards to various segments of the travel tourism and hospitality industry. These awards are presented to State Governments / Union Territories' classified hotels, heritage hotels, approved travel agents, tour operators and tourist transport operators, individuals and other private organizations in recognition of their performance in their respective fields and also to encourage healthy competition with an aim to promoting tourism. The National Tourism Awards have over the years emerged as a prestigious recognition of achievements in the travel tourism and hospitality sectors.
Shreya Travels was founded by proprietor Manisha Vijay Golchha along with its CEO Capt. Vijay Kamal Golchha in the year 1994. Over the years Shreya Travels, Nagpur has grown to become one of the leading Tourist Transport Operators in Central India catering to the needs and requirements of each and every category of domestic, foreign tourists as well to corporates and multi-nationals companies.
Shreya Travels is approved Tourist Transport Operator by Ministry of Tourism since 2004. In 2011, Capt. Vijay Kamal Golchha has been appointed as Executive Committee Member of Indian Tourist Transporters Association.