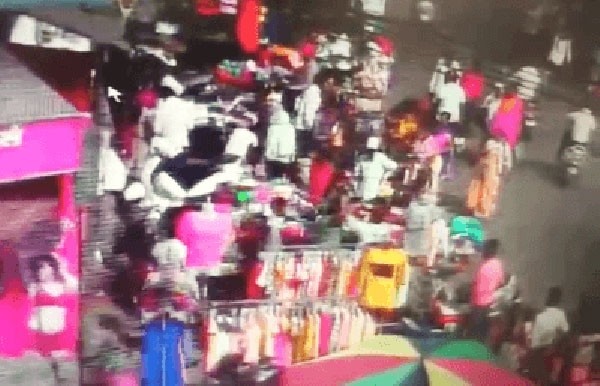 Nagpur: Sitabuldi is one of the biggest market in Nagpur where people from all stratas come for shopping. These days the Sitabuldi main road has become congested because of the hawkers and vendors sitting on the road to sell products. The municipal administration is least bothered of vacating them which is creating a problem for parking and the people moving on the road. These vendors and hawkers are often seen having tiffs with the people as they think it is their right to to have their shops on road. They are often seen misbehaving with the women customers.
On Tuesday one such vendor is alleged to have misbehaved with the with a women and on top of that even the police did not take action against him. A couple from Jaitala, Ankit Sonkasle and his wife Puja had gone to Sitabuldi for purchasing things on Tuesday afternoon. On Sitabuldi main road in front of the UCO bank Puja was purchasing some things while bargaining she had an agrument with the vendor who is alleged to have used abusive language and so her husband Ankit immediately protested. Soon after heated exchange of words the vendor and Ankit came to fists and blows. The other shopkeepers too came to the help of the vendor and started beating Ankit . The accused had covered their faces with scarves.
Seeing the incident taking a serious turn Puja contacted the Sitabuldi police. The cops reached the spot but by that time the culprits ran away. Ankit and Puja reached the police station and the shopkeeper too reached there. He told the police that he was not there during the scuffle. According to Ankit the shopkeeper had taken the police aside and spoken to them. Immediately the plolice asked to settle the matter. When he refused, on a complaint from the shopkeeper police spoke of registering a case against the husband and wife. On not getting Justice the couple contacted the DCP of the area Rakesh Ola and narrated the entire episode to him. The entire episode was capture in the CCTV and so from the footage it was clear how the shopkeeper had misbehaved with the couple. Ankit and his wife hope the police official will take serious action against those guilty.