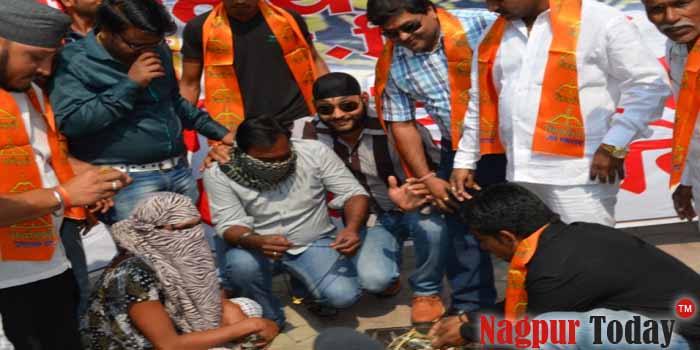 Nagpur News : Shiv Sena has proved it time and again that it would oppose Valentine's Day firmly, no matter what comes its way. And Thursday was no exception when the party workers marked their protest in a peculiar way. In quite a bizarre affair the Shiv Sainiks on Thursday got one of their supporters to marry a eunuch as a symbolization of their anti-Valentine's ideology.
However, the party's act has not been taken in light veins by the large number of citizens in Nagpur. The people have started questioning the party's intention. They are dubbing this move as a tactic to garner publicity.
Clad in the groom's dress with tilak on his forehead, the party worker had all praise for Shiv Sena as he affirmed his party's stand towards the V-day celebrations. The eunuch was all dressed up in the bride's avatar.
Shiv Sena had earlier warned that they would get the couples caught on this day to marry.
Citizens however question the efficacy of Shiv Sena's move as they argued that when the party has so much repulsion for the day then why are they trying to marry the couples?