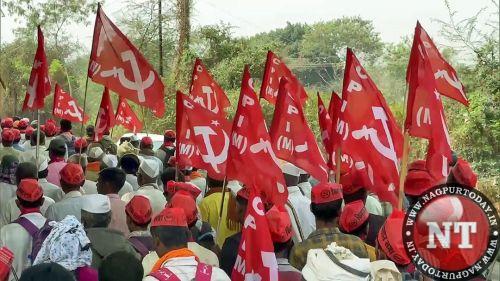 Amid the ongoing farmer's march, under the leadership of All India Kisan Sabha and the Communist Party of India, to draw the attention of the government towards their problems and plight, state ministers Dada Bhuse and Atul Save on Wednesday met and held talks with a delegation of the protesting farmers.
The farmers have been holding a long foot march from Nashik to Mumbai in a bid to put forward their demands before the government. Speaking to reporters on Wednesday, Dada Bhuse said Chief Minister Eknath Shinde and Deputy Chief Minister Devendra Fadnavis will meet representatives of the protesting farmers at 3 pm in Mantralaya on Thursday.
"We discussed 14 issues that they flagged. We accepted their positions and agreed to many of their demands. We held detailed discussions with them. We requested the CPI and the protesting farmers to meet CM and Dy CM at the Mantralaya. They agreed to meet the chief minister and the deputy CM at 3pm in Mantralaya tomorrow," he said.
After meeting the farmers' delegation, state minister Atul Save claimed that 40-50 per cent of issues have been resolved.
"Discussions were held on all the issues that the farmers raised. 40-50 per cent of their issues have been resolved and the rest will be resolved after meeting the CM, Dy CM tomorrow," he said.
After reaching Mumbai on March 14, the farmers started demonstrations at Azad Maidan in a bid to highlight the issues that they are faced with.
Owing to the large-scale protest, security was beefed up to control the traffic in two lines and avoid any inconvenience to commuters.
"Considering the scale of protest, we deployed adequate policemen for maintaining law and order in the event of an emergency. As the foot march is being held from Nashik to Mumbai, we have deployed forces for controlling the traffic in two lines and avoid any inconvenience to commuters," said DCP Kiran Kumar Chavan.
"We have started this march to draw the attention of the government towards our problems. We have put forward 14-15 demands and will hold discussions with the government about them," a protesting farmer told ANI.
Another farmer said that their demand includes a remunerative price for onions, full loan waiver, waiver of pending electricity bills and 12-hour daily power supply.
"We demand compensation from government insurance companies for losses incurred due to unseasonal rains and other natural calamities," said another farmer.