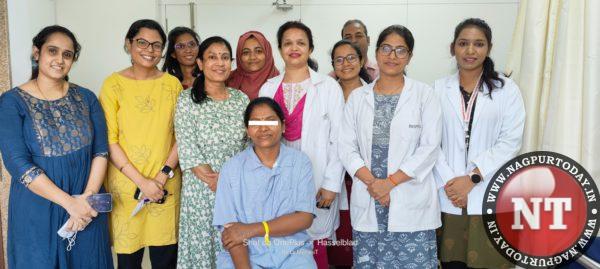 Nagpur: Shalinitai Meghe Hospital & Research Center; the 520 bedded teaching hospital of Datta Meghe Medical College based in Wanadongri has become a boon for the common man with its mission of affordable quality Health care. More than 250 full time doctors serve the needy in this medical college. Needy patients from Central India are reaching Dr. Babasaheb Ambedkar Superspeciality Institute (DBASI) attached to SMHRC in view of the availability of full time trained round the clock experienced qualified specialists and superspecialists and 24×7 advanced 30 bedded Emergency Care facility.
Department of Obstetrics & Gynecology is making a distinct goodwill in view of round the clock stationed gynecologists & Anesthetists, superlative affordable care with Delivery charges ranging from Rs.1000/-( Normal delivery) and Caesarean delivery (2000/-) only. A 43-year-old known case of Hypothyroidism and Hypertension Female was recently admitted in SMHRC OBGY ward with advice for Hysterectomy (Uterus removal).
The patient was undertaken for NDVH (Non- Descent vaginal Hysterectomy) with BSO (Bilateral salpingo- oophorectomy) in the state of art 7 OT complex in SMHRC, by Dr. Rajasi Sengupta, Associate Professor backed by team of Professors Dr. Saunitra Inamdar & Dr Preeti Gattani, Associate Professor Dr. Amrita Singh, Assistant Professor Dr Anupama Dhobale & Senior Residents Dr Anupama Bhende & Dr Sandeep Khandare. The patient was discharged on the 3rd day in stable condition showing excellent post operative recovery. Since the surgeon removes the uterus through the natural orifice/ opening in the body, it does not leave any visible scars.
Dr. Anup Marar-SMHRC Director stated that NDVH in Gynaecology is a common procedure that is nearly painless and smoother than a laparoscopy wherein the benefits are no stitches/scars, few complications, short hospital stay and fast recovery, less pain after surgery, less expensive than other hysterectomies. However, it does require skilled trained surgeons and advanced Operation theatre, he added. The total hospital charges for NDVH surgery in SMHRC General ward comes to Rs.15000/- only. Till now more than 30 such scarless surgeries have been successfully undertaken from the commencement of this facility.
The OBGYN team stated that exemplary teamwork nurtured at SMHRC by Chief Medical Superintendent Dr. Vasant Gawande and Assistant Medical Superintendent Dr. Sudhir Singh along with total faith of patients on the doctors helps to provide ethical rational healthcare to numerous needy poor patients who are approaching the OBGYN department from all across Central India. The team complimented the missionary efforts of the nursing team led by Col.Ramani Nair, Br. Neeraj Kalihari, OT team led by Dr. Pratibha Deshmukh and Diagnostic team led by Dr. Obaid Noman & Dr. Anand Hatgaonkar and the managerial team included IPD Clinical Manager Dr. Swati Gupta, Dr. Rucha Dhone and Dr Manasi Tikas, Clinical Floor Manager.