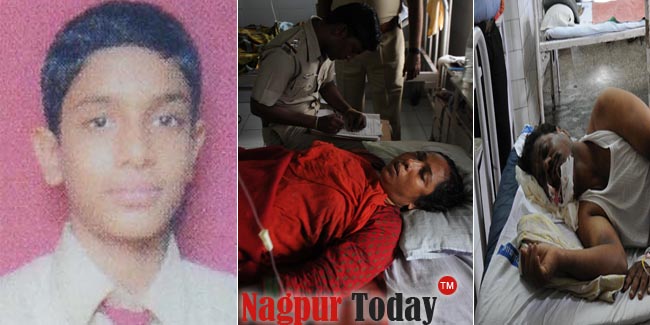 Nagpur News.
Zaripatka police are still groping in the dark to catch any clue in order to crack the dreaded murder case of Kamgar colony in Zaripatka. The bereaved Shahrukh Zaidi was attacked along with his father Anwar Hussain Zaidi and mother Kaneez Fatima at their house in the dark of the night. While Shahrukh succumbed to the injuries inflicted on him, both his parents fell unconscious and could not recognise the assailants. No arrest has been made yet.
The post mortem report of Shahrukh says that he has been beaten even after he went unconsciousness. This led the cops to rethink the theory that the attack was just a part of theft.
DCP Zone-II M. Y. Siram appeared puzzled over the thread in the mystery.  "Our investigation is still on but we are still not in a position to reach the breakthrough. We are looking into every possible angle in the matter."
A section of media on Friday linked the murder to the conspiracy and not just an accident in the way of loot.
When asked in this regard Siram told Nagpur Today, "We are peeping into every possible angle to decide upon the direction of investigation. The parents could not identify any of the assailants as it was dark and their son Shahrukh who must have recognised someone is already dead. So it has become challenge for us to see through and crack the case. But sooner or later we will certainly deliver consolidated outcome."
Siram said, "We are also looking at boy's relationship status, gathering details of their relatives and their property issues, but nothing can be said for sure at the moment."
Though there was tale-tell signs of dacoity, including theft of valuables, a section of the cops now feels that the scene at the crime spot was being deliberately created to mislead the investigation. In a fresh twist, it has come to fore that the mastermind was likely to have hired assailants to kill the family. But only Shahrukh could be killed while his parents escaped the attack.
Anwar was a retired Navy man. Deceased Shahrukh, undergoing training of fire officer, was supposed to leave for Dubai. Anwar had married off their only daughter Jasmeen before shifting to Nagpur to spend a retired life.
A section of media reported that Shahrukh's mother Kaneez had a tiff with a family member as she had declined to give her signature on a property document which legally stalled any deals involving it. Kaneez had a serious altercation with the close relative who is now thought to be the mastermind. Family sources revealed before the cops that the man in question had also threatened Kaneez of dire consequences.