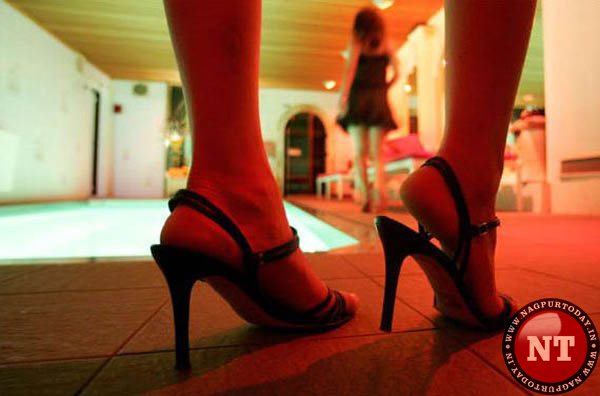 Nagpur: Close on the heels of busting of a high-profile sex racket being operated at Hotel KP Inn near Ajni Square, Kalamna police raided a house and arrested a woman who was making available rooms for flesh trade and an auto driver who was bringing girls for clients. A woman pimp, the mastermind of the sex racket, however, has gone absconding and is being searched.
The action was carried out by a special squad of Zone DCP. The arrested accused have been identied as Sweety Ramesh Bagde (28), resident of New Laxminagar, Vanjra, and Sheikh Kalim Sheikh Munir (32), resident of Kharbi Road, Shesh Nagar, Hasanbagh.
According to police, the raid was conducted at the house of accused Sweety Bagde around 7 pm on Thursday. Sex racket was being run from the house. An accomplice of Sweety and a woman pimp brought girls to this house and flesh trade was being carried out. Sweety used to make available rooms in her house. The accused auto driver used to bring girls as well as customers.
Kalamna API Meshram, based on a complaint lodged by API Omprakash Sontakke, booked the accused under under Sections 370, 34 of the IPC read with Sections 3, 4, 5 and 7 of Prevention of Immoral Trafficking Act and probing the matter further.
It may be recalled, a special squad of Deputy Commissioner of Police (Zone II) Chinmay Pandit had busted a high profile sex racket at Hotel KP Inn, near Ajni Square and rescued two Russian girls, besides arresting two agents in the small hours of Thursday. Cops seized cash Rs 65,610, high end cell phones, a car, diaries and other material collectively worth Rs 2.85 lakh.
The racketeers had Delhi connection and two Russian girls rescued by the police had also visited the city earlier. The accused have been identified as Pranita Vishal Jaiswal (43), a resident of Flat No 13, Atharwa Nagari, Phased III, behind Pyramid City, Pipla, and Nikhil Vilas Shende (26), a resident of Flat No 10, Nirmal Apartment, Omkar Nagar, Manewada.