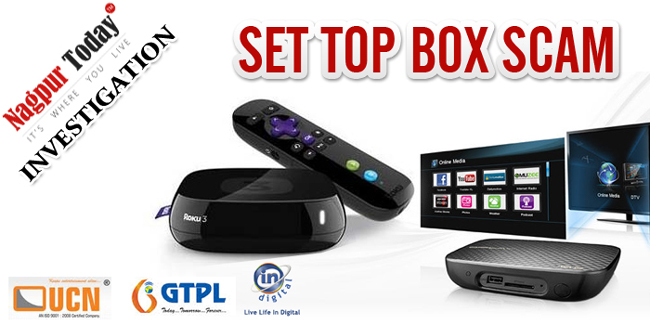 Nagpur News: As the traders shut their business to oppose newly implemented Local Body Tax on Monday, the cable operators remained busy in making extra bucks as the deadline for installing set top boxes ended on the midnight of March 31. The customers in Nagpur are reeling under confusion over the prices and types of set top boxes. Adding to it, no bill is being issued to them.
District Collector Saurabh Rao has directed probe in the price mess up. He has assigned the inquiry to Additional Collector Ayesha Pathan. When Nagpur Today contacted Ayesha Pathan she informed that a meeting of multi-service operators (MSOs) has been called up on Tuesday to clear up the confusion. She would be issuing fresh directives to the MSOs.
She said that a price list has also been asked from the MSOs.
Upon the bills not being issued to any of the customer by any operator, she said, "we are looking into the matter and sales tax department is also being informed."
Complaints poured in from various nooks and corners of the city about the set top boxes being sold at much higher than the previous prices. The installation continued on Tuesday morning as many of the households are still running blank on their TV sets.
Reports say that most of the cable operators have created artificial shortage of set top boxes to squeeze out extra money from the hapless customers. The set top boxes which were earlier priced at Rs 1000 were sold at around Rs 1400.
Nishikant Kishore Kashikar said that a UCN cable operator told him the price of Rs 1000 in the morning and when he called up after one hour, the price was up by Rs 100.
Rampant black marketing of set top boxes have become the order of the day while the administration has kept mum over the whims of operators.
Though additional collector Ayesha Pathan issued the price list for the set top boxes being sold by various cable operators but she did not sent out a single word about the bills. No cable operator is willing to issue the bill against their sale.
Ankit Ballu Kumar, a resident of Swawalambi Nagar informed that when he insisted on the bill the cable agency vendor tried to pacify him saying that why the need of bill when we are here to help you. When Ankit did not relent, the vendor asked him to wait for another one month as he cited heavy rush of set top box installations as the reason for not issuing bills.
Also read : http://nagpurtoday.in/cable-operators-sell-set-top-boxes-sans-bill-evading-tax-on-massive-scale-in-nagpur/