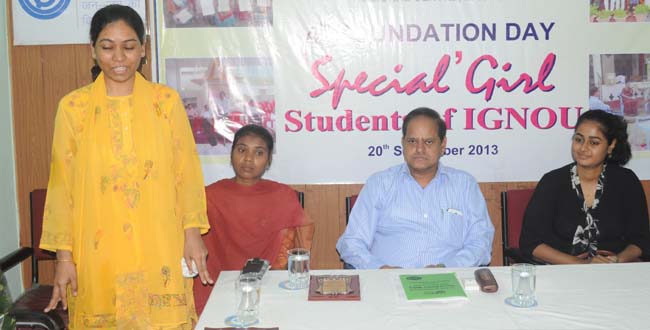 Nagpur News.
No success story can be more inspirational and bigger than this. Gunjan Shakya had it all within her – the passion, perseverance, will and the ability to perform to perfection, except that she could not see. But she never let this hurdle deter her commitment to achieve her goal. Not for once did this inability shake her confidence. Gunjan achieved what she aimed for. Today she is proud to be associated with Bank of Baroda in the capacity of Assistant Manager.
Sporting a winning smile on her face Gunjan was all filled with that never ending confidence and inspiring gesture that set an example before all those who have been blessed with vision. Her positivity reflected her persona when she appeared for the felicitation programme organized as a part of 4th Foundation Day celebration of Indira Gandhi National Open University (IGNOU) Regional Centre in Nagpur on Friday.
The girl students with 'special' traits who pursued courses from IGNOU were called upon on this occasion.
It came up that four girl students kept pursuing courses with IGNOU despite all the hardships in their lives. The undying spirit of these students was evident as these girls have managed to achieve their ambition by fetching good jobs in their respective areas.
One of them is Gunjan who became a bank officer after completing BA Honor's & MA in English Literature. Gunjan now works as an assistant manager with Bank of Baroda. Tragedy stuck Gunjan during her class 8th when her optical nerve got damaged. But she continued her studies. She would be always thankful for her parents who acted as the big support for her. Her father works with WCL.
Gunjan got selected for the Bank Job after appearing in exams. She is also doing MBA from IGNOU and P.hd. in English Litt.
Youth should be open to new learning
NagpurToday asked Gunjan if she has any message for the youth, "youngsters should not be prejudice and must open to new learnings. "We should not be self-centered and must contribute to the society. The society that has always helped us to be whoever we are," she added.
The other girl achievers who were felicitated include Sarikonda Jayalakshmi who won bronze medal in archery in world championship in USA, inter university gold medalist in Maharashtra Tanushree Madhavan and Savita Manikrao Waghare a rural girl who after completing IGNOU's CHBHC is now employed in a hospital.
Stressing upon avenues
Speaking on the occasion Regional Director IGNOU, Dr.P.Sivaswaroop said, "There are several people in the society, especially women, who presume or over estimate their shortcomings and drop out. Through this meeting, I would like to tell them that if they have desire to grow, there are avenues open to them. They have to search for such avenues and Open University is one of them."