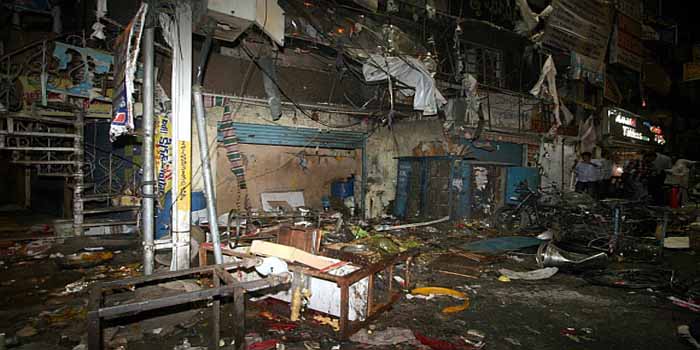 Nagpur News: 16 people were killed and 32 injured on Thursday night when at least three powerful serial blasts rocked a busy commercial hub of Hyderabad close to a crowded bus stand at Dilsukhnagar.   Police said the bombs may have been placed in a cycle.
In Nagpur, DCP Meena informed that precautionary measures have been put in place across the city, however, he denied any threat to Nagpur in view of its close proximity to Hyderabad.
Meanwhile, alert has been sounded across Maharashtra in view of the blast. A high alert has been sounded across Maharashtra in the wake of the blasts in Hyderabad this evening, Home Minister R R Patil said.  "I have spoken to senior police officials and directed them to beef up security," Patil said.  The state home minister reviewed the security situation in the state Thursday evening, official sources said. Police have been asked to keep a vigil on suspicious activity and persons in view of the Hyderabad blasts.
The first blast was reported at a park and it was followed by another in a eating joint in Hyderabad.
Chief Minister N Kiran Reddy rushed to the blast site.
The previous major attack in Hyderabad was on August 25, 2007 when two blasts took place almost simultaneously.
NSG team sent
Union Home Secretary R.K. Singh informed that a team of forensic experts of NSG, the country's premier counter-terror force, was tonight flown to Hyderabad in the aftermath of the serial blasts that claimed at least 10 lives.
The 'post-blasts' analysis team have been sent to Hyderabad, sources said, adding experts from the Chennai hub of the 'black cat' commandos force have also been rushed to the Andhra Pradesh capital.
The NSG, which is also the key force for counter-hijack operations, operates the National Bomb Data Centre (NBDC) which has detail information about such acts in the country. The team will collect samples from the spot and analyse the 'trigger mechanism' used in the blasts, the sources added.
Had sounded a terror alert on Tuesday: Centre:
Two days before the Hyderabad blasts, the Centre had alerted all states that Pakistan-based terrorist groups may carry out attacks in a major city to avenge the hanging of Ajmal Kasab and Afzal Guru.
Sources said the central security agencies had sent an advisory on Tuesday asking all states to tighten security in sensitive places as Lashkar-e-Tayiba, Jaish-e-Mohammad and Hizbul Mujahideen may launch attacks.
The security agencies sent another advisory on Wednesday saying banned Indian Mujahideen too may carry out terror attacks to avenge the hanging of Kasab and Afzal.
Union Home Minister Sushilkumar Shinde, without disclosing details, Thursday said that all states were alerted about a possible terror strike by militant groups.
However, Andhra Pradesh Chief Minister Kiran Kumar Reddy said these were general alerts and keep coming often.