Sensuous Sunny Leone all set to scare everyone through Ragini MMS 2; 'Not everyone gets this chance', she quotes in Nagpur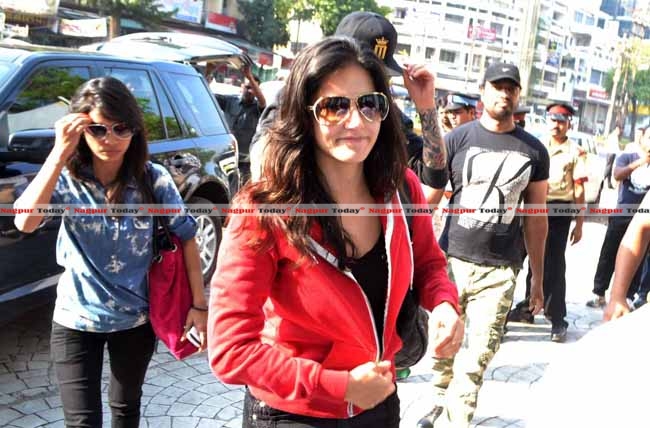 Nagpur News.
There are few unusual stories which are written by destiny. These are unbelievable fairy-tales written for the chosen ones. One such destiny's child is Sunny Leone. The Canadian NRI girl started with Adult Film Industry and soon become popular in it. However, destiny had grander plans for her and proved that she is "The Chosen One" by picking her from that not-so-accepted but fascinating background to main stream Bollywood Industry. In the press conference to promote Ragini MMS 2, Sunny opened up the book of Ragini MMS 2′ story. She informed about her liking to handle bold and sexy roles, as she did in this flick. If you are a thriller and horror movie lover, you ought to watch this one. The emotional part in it shall be serving as a cherry on top, she said, along with the music of this movie.
Nagpur Today in an exclusive chat tried to explore the deep-inside Sunny! When asked whether she feels that is she a Destiny child or not, she said, "I do not know about being the chosen one but I definitely thank God for giving me this opportunity to do what I am doing today. I am aware that not everyone gets this chance."
The press conference started with trailer of Ragini MMS 2 and the chart buster "Baby Doll" Song. Looking like a million dollar baby girl herself, Sunny handled all questions from every reporters with elan.
Below  is an exert from the interview:
About Big Boss and her easy acceptance in India:
Nagpur Today :  Even the makers of Big Boss tried to hide your background initially to announce it later to see reaction of other contestants in the house, you were accepted fairly easily in the Big Boss House and later by the country. Had you expected that you will be accepted so easily by a country which can sometimes be little conservative and orthodox?
Sunny : Not really, I was too sceptic about how the contestant will react when they know about my background. I thought someone will recognize me from my earlier videos and spill the beans. But by the time, I told them about it, they had already seen my normal side. They had seen me how I am as a real person doing daily house chores like swiping the floor, cooking food, etc. So they had become comfortable with me as a person and I am glad my background did not affect me. I think same happened with the country too. As they saw the real Sunny in the house, it became easier for them to accept me. And I am glad they did and it changed my life completely.
About change of perception about her in her earlier co-workers from the Adult Industry:
Nagpur Today : Now that you are doing Bollywood films and are a start in the country, how do your Adult Industry co-workers see you now? Do they treat you differently?
Sunny : I was already on the finishing line of my Adult Industry career when I decided to do Big Boss so have not seen any such change as that circle was already finished.
About Bhatt Production and Balaji Production :
Nagpur Today : You worked with India's two interesting production houses i.e. one of Mahesh Bhatt and Other is Balaji Films of Ekta Kapoor, how did you find the difference in working with them
Sunny: There is huge difference between both of them. While Bhatt's is a small production house with little informal work style, Ekta's Balaji is like proper corporate house with structured and well planned work environment. I learn a lot from the industry every day. Through this film, I learned a new Hindi word ie 'Khauf'.
Nagpur Today : Where did you learn more?
Sunny : As I was totally naive at the time of Jism 2, so was just following the instructions and guidance by Bhatts. I learned more in Balaji about technicality and production of films. I was much more involved this time as I asked them to give a team to work with me early in the day so that I can work on my lines and be prepared more. They also had workshops and discussions on different iterations on script which also helped me learn the process more.
About Ragini MMS2:
Nagpur Today : Tell us more about your film Ragini MMS 2?
Sunny : I started working on Ragini MMS 2 earlier than Jism 2 and I am very excited it is being released this Friday. It is a proper sequel as in it takes the story forward from the earlier part. As I heard the first film was based on a true story and shot on the real location, I was terrified when they told me that we are shooting at the same place again. While in the shooting process too, spooky things happened and I was scared many times. Earlier part was a more of handycam style shoot but this time it is like a professional production with bigger budget. The film is sexy, glamorous and I promise it will scare you. The song Baby Doll is already famous and I am very happy about it.
When asked what the films release date is, Sunny replied "21 March" which is also being promoted as "Ek Kiss March" by the
promoters. The event and promotions have been professionally organised by Master's Group Events.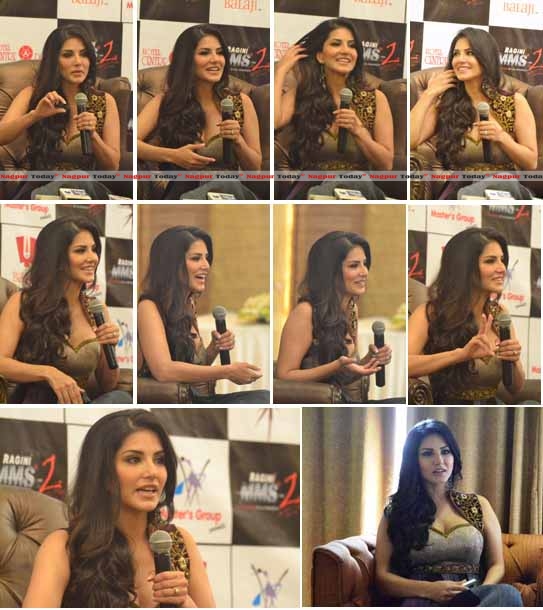 -Prashen Kyawal
PICS BY : Amol Gajbhiye