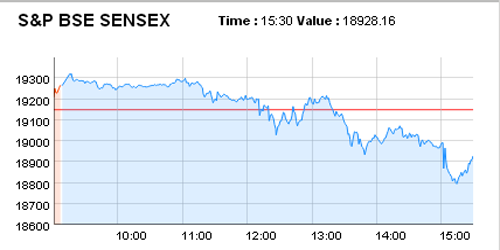 Nagpur News: The BSE Sensex pared intraday gains and slipped in the negative territory on Thursday as Finance Minister P Chidambaram's Budget proposals like higher taxes on corporates and individuals weighed on the markets.
The Indian markets dropped despite positive news on the fiscal deficit, which has been contained at 5.2 per cent, while the fiscal deficit for FY14 is forecast at 4.85 per cent.
"Faced with a huge fiscal deficit, I have no choice but to rationalise expenditure. We took a dose of bitter medicine. It seems to be working," the FM said in his Budget speech.
At 03:30 pm, the BSE index was at 18928.16, down -224.25 points or -1.17% per cent. It touched a high of 19,322.28 in trade today.
The NSE was at 5693.05, down -103.85 points or -1.79% per cent. It touched a high of 5,849.90 in trade today.
Realty and infrastructure stocks gained after the FM in his Budget speech said he plans to target $1 trillion in infrastructure in the 12th plan.
Additional positive for the infrastructure sector came in the form of Tax Free Infrastructure Bonds. The finance ministry putting Rs 50000 cr limit for Tax Free Infra Bonds is positive for the infra sector.
Education stocks rallied 5-10 per cent after the FM increased allocation to education ministry to Rs 65867 crore, up 17 per cent.
First-time investors who earn an annual income up to Rs 12 lakh can now invest in the Rajiv Gandhi Equity Saving Scheme (RGESS) up to Rs 50,000 and can avail tax benefit for half the amount invested in the scheme