Seminar on 'Smoke Ventilation, Fire Control'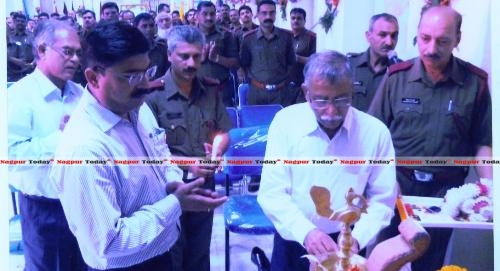 Nagpur News.
The trainees of 60th Divisional Officers' Course and 70th Station Officers and Instructors' Course of National Fire Service College (NSFC) organized a Seminar on "Smoke Ventilation and Fire Control" the other day under the guidance of  Director of NSFC Shamim in the Seminar. The chief guest of the Seminar was Rajendra Uchake, Chief Fire Officer, Fire Brigade and Emergency Services, Nagpur.
Nilesh Kate, Director of Gentech Engineering, provided his guidance and training on Smoke Ventilation Service the entire day. "If the Fire Officers are well apprised of the Seminar's aim of safety and security of citizens, action plan on smoke ventilation and controlling of fire, how to utilize the techniques in emergency situations, then they can carry out their task with utmost efficiency and thus avoid human casualties and loss of public property," Kate said.
Others who attended the Seminar include Joint Directors of NSFC D K Shaha, D M Khan, Syndicate Leader Sukhdev Singh, officers of Fire Brigade and Emergency Services and others.