A stamped 'Rejected' word appears at name of Nitin Gadkari, other candidates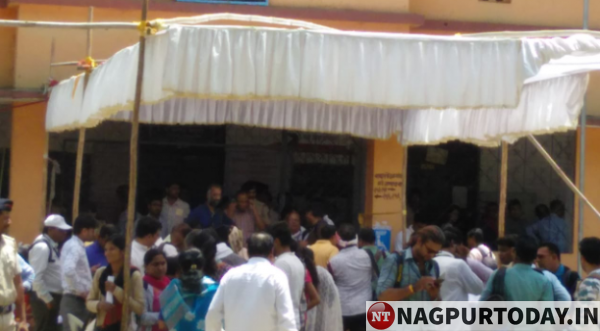 Nagpur: Despite high claims by the district administration, a major security breach was reported at a polling booth in Nagpur Lok Sabha constituency on Thursday.
Voters at New English High School polling centre were taken aback when they found the ballot paper having names and symbols of candidates tampered with by mischievous elements. At the name and symbol of BJP candidate Nitin Gadkari a stamped "Rejected" word was found in the ballot paper displayed at the polling centre. The stamped 'Rejected' word was also found on the names of some other candidates. This 'Rejected' word triggered a utter confusion among voters at the polling centre.
Talking to a correspondent of ABP News Channel, senior BJP leader Sandeep Joshi, who had rushed to the polling centre, smelt a conspiracy behind the mischief. "It is a major security breach. The election officials and security personnel were camping at the polling centre since yesterday (April 10) evening and the ballot paper with names and symbols of candidates was displayed at the centre for knowledge of voters.
How the 'Rejected' word could be stamped on the ballot paper in the presence of booth officials and security personnel. It is a conspiracy and a major security breach. This fact is being brought to the notice of District Collector and Returning Officer Ashwin Mudgal for immediate action," Joshi said.
A startled voter said that when he arrived at the polling centre at the New English High School he noticed the stamped 'Rejected' word at the names of Gadkari and other candidates. When confronted, the polling centre officials and security personnel fumbled and resorted to skin saving exercise.
Apart from the security breach, reports of EVMs developing snags at some polling centres in city also poured in.