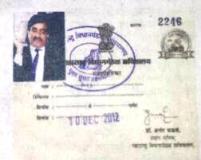 Nagpur News : The security has been put on stake in the current session of state assembly. At present, entire cabinet along with the state's Chief Minister is in Nagpur but the security arrangements are being blatantly overlooked as a serious incident of security flaw came to light. The entry pass issued to various media persons have been done ignoring the essential checks. It was evident from one such entry pass, on which the picture of none but under world gangster Dawood Ibrahim is pasted. Not only this, Dawood's picture also bears the official stamp of chief security officer of State Legislation secretariat.
This is how pass was issued
The concerned entry pass bearing no. 2246 was issued on December 10, 2012. It was got done by a local scribe to prove the point. He told Nagpur Today that every year countless entry passes are issued to the media in view of winter session of state assembly.
Checkpoint Loophole
Whereas no check is done on the proceeds of these entry passes, nothing much is initiated to verify the identity of the pass holder.  Even the entry register is in shambles.
Pass issued without name, picture
The scribe who got the pass issued in Dawood's name said that entry passes are simply issued without pasting the holder's picture and even mentioning the name. The user sticks the photo by self and himself exercise the important task of putting the stamp seal.
Threat looming large
With such blatant ignorance in security check, the threat of naxal attack looms large. As the areas surrounding Nagpur are infiltrated by Naxalites, the carelessness may lead to tragic mishap.
Nagpur on terrorist target
For over a decade, the terrorists have been reportedly trying to filter in the city. A live bomb war recovered near RSS headquarters in 2001 where as terrorists' bid to attack the building was foiled in 2006.
Alert after Kasab's hanging
In view of recent sentencing of 26/11 Mumbai attack key accused Mohammed Ajmal Kasab, Intelligence Bureau has been alerting about the possible attack. Security has been put on high alert.
Under present situation this serious lapse in issuing entry passes is inviting major threat.