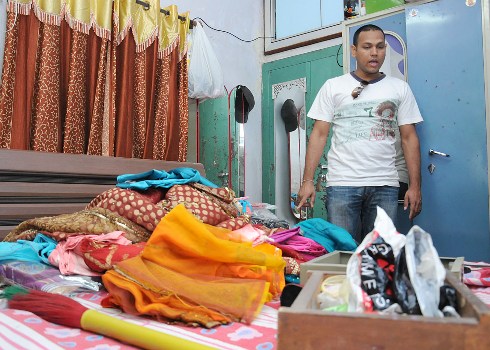 Nagpur News: Showing their generosity, thieves offered water to the 65-year-old woman whom they tied up and threatened at knife point before robbing 25 tola gold and cash Rs 4 lakh from her residence at Pragati colony near Sonegaon Lake on Monday afternoon.
Interestingly, before leaving home the robbers have decided to lock her in the bathroom, but on being insisted by senior citizen, they kept her in the bedroom.
"I said that I will feel suffocated in the bathroom and they didn't lock me," said Shashikala Jaiswal, who was tied by three youths and robbed her house.
The theft is estimated to have occurred at around 11.45 am when Shashikala Jaiswal, wife of advocate Mohanlal Jaiswal, was alone at home.
Still under shock, Jaiswal told police that she was working in the kitchen when the thieves entered the house. Before the main door, there is a glass door which was locked. Police said that one can easily open it by rising his feet and stretching hand.
"I didn't hear the sound when they opened the door but as they walked in, I suspect someone has entered. Till I come to the first room, I saw three youths had entered and before I could ask them, they push me and took me to the bedroom," said Jaiswal claiming that she can identify the robbers. All three, were in their twenties and were communicating in Hindi language. One of them was wearing a scarf but later removed it.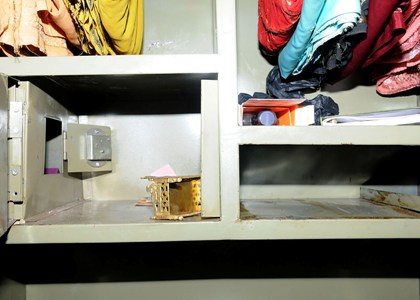 She told that wasting no time the youths put a sticker on her mouth and tied her hands with white coloured strips. Jaiswal was frightened and couldn't resist anymore when one of the thieves kept the knife point on her neck.
"Twice they put the knife point on my neck and also twisted my hand when I refused to give them the cupboard keys," said a brave Jaiswal who didn't gave the keys to them till last. Hence, having no option left in front of Jaiswal stubbornness, the thieves broke open the lock of all three cupboards.
The robbers were panicked when Jaiswal started bleeding from the nose under fear. Hence, to calm down her, showing their generosity, one of the robbers rushed to the kitchen to being a glass of water while other immediately remove the sticker from the mouth.
Offering a glass of water, they again covered the sticker. Jaiswal stated that while giving the water, one of the thief said to her that they don't want to hurt her but are forced to do for their need.
Head of a wealthy family, Jaiswal's elder son, Neeraj owned a wine shop at Wani in Yavatmal while the younger Dhiraj is a builder.
Dhiraj informed that heavy amount of cash around Rs 4 lakh was kept in the house. He said that the cash included some rent money and his business deal amount. The stolen gold ornaments was brought from the locker for a wedding just a week before.
Police said that the robbers remained at least for 45 minutes in the house. Later minutes after the thieves fled away, Jaiswal, though hands tied, managed to dial Mohanlal's number and informed him. Mohanlal informed Dhiraj who then alerted his neighbhour Pravin Khonde and asked him to rush home for his mother's help.
Later, Sonegaon police were called who have estimated the robbery amount as Rs 10 lakhs. However, cops failed to get finger prints from the scene. Interestingly, none of the neighbours saw any youths coming on bike or entering Jaiswal's house.
Pointing his former driver Chandu Thakre's involvement behind the robbery, Dhiraj told cops that they had removed Thakre form the job after he was found drunk during working hours.
"Hence angered over it, he had threatened my father twice. Twice we have filed a complain against him at Rana Pratap Nagar police station and SOnegaon police station but cops left him with a warning," said Dhiraj. He claimed that the thieves choose the perfect timing when there was no one at home except his mother.