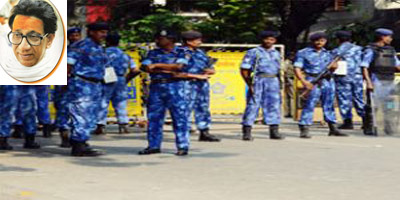 Nagpur News :  Security has been raised across length and breadth of the city following the demise of Shiv Sena supremo Balasaheb Thackeray in Mumbai on Saturday evening. With the speculation riding high over the past couple of days regarding the deteriorating health of the leader, there was serious concern about maintaining peace.
Sensing the whiff of situation arising out of the growing concern among Thackeray's followers, Nagpur's Commissioner of Police Dr. Ankush Dhanvijay has alerted  his men to maintain a strict vigil over mood of the people especially Shivsainiks in the city.
Meanwhile, large number of police personnel have been deployed at various sensitive areas of the city in order to contain any possibility of mob frenzy.