Security beefed up as Sushma Swaraj reaching Pakistan today

C

apital sealed at several places to restrict movement while a large number of police and paramilitary personnel are deployed in and around the conference center.
 US welcomes the move.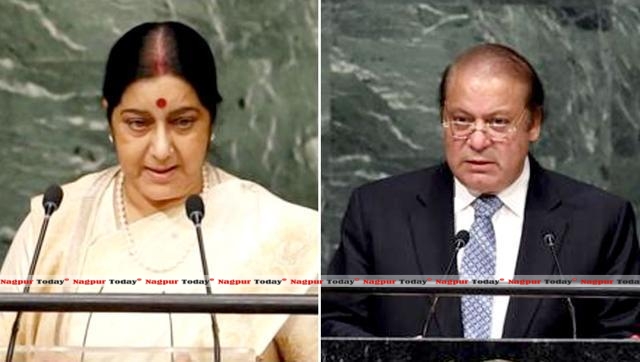 New Delhi/ Nagpur: Islamabad is placed on high alert as the external affairs minister Sushma Swaraj and Afghan President Ashraf Ghani arrive in Pakistan's federal capital on Tuesday to attend a regional conference on Afghanistan. Officials here are focused on the visit which they hope will pave the way for better relations between the two countries.
The capital has been sealed at several places to restrict movement while a large number of police and paramilitary personnel have been deployed in and around the conference center. A number of delegates have arrived in Islamabad, which is seeing an international conference of this stature after several years.
Earlier on Monday evening, Pakistan's prime minister Nawaz Sharif told a naval ceremony near Karachi that Pakistan is facing unconventional challenges that should be viewed on a broader canvas of global and regional environment. "Our national resolve and commitment to eliminate terrorism has earned us a sound repute and respect in international society," he said, ahead of the Afghanistan meeting on Tuesday.
Aided by foreign secretary S Jaishankar, Swaraj's arrival will mark the first significant engagement between India and Pakistan since the meeting between prime ministers Nawaz Sharif and Narendra Modi in Ufa, Russia in July this year. Modi and Sharif also resumed high-level contacts in a brief conversation at the climate change talks in Paris last week.
The confirmation on Monday also comes a day after the national security advisers of both countries, Ajit Doval and Naseer Janjua, held a meeting in Bangkok to take the bilateral engagements forward.
Swaraj is expected to call on Sharif besides meeting with the Prime Minister's Adviser on foreign affairs, Sartaj Aziz, on the sidelines of the Islamabad conference.
"Swaraj would meet Prime Minister Nawaz Sharif tomorrow," said Aziz, adding, "This is a good beginning, the deadlock that was present has to some extent been removed."
Swaraj's visit is the first ministerial-level visit to Pakistan since 2012 when the then foreign minister, S.M. Krishna, travelled to Islamabad, before Modi was sworn in as prime minister.
"We are expecting that the conference will set the stage for better relations not only with India but also with Afghanistan," foreign affairs advisor Tariq Fatimi told state run Pakistan Television on Tuesday morning. Fatimi said that Pakistan wanted to address the issue of regional peace through an inclusive approach.