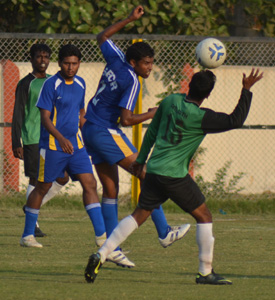 Nagpur News: After Southern Railway, host South Eastern Central Railway (SECR) have qualified for the quarterfinals of All India Railways Football Tournament organised by South Eastern Central Railway Sports Association (SECRSA) at Motibagh ground on Thursday.
Both Southern Railway and SECR will play in the quarterfinals to be played at Kapurthala in Punjab. On Thursday, SECR overcame Southern Railway 1-0. After playing a barren first Nitin Kotulwar scored an all-important goal for SECR in the 69th minute. Prior to that in the sixth minute Sudhir Majhi missed the golden opportunity to take the lead in the sixth minute.
Sainthil Kumar also was unlucky as he missed an open net in the second half. Abdul Khalique was another culprit who missed the target from penalty box.