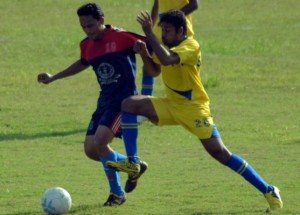 Nagpur News.
The South East Central Railway (SECR) defeated Nagpur Blues by a margin of 2-0 in the Meghe Super Division Football. The match was played at the Motibagh Ground on Tuesday.
Akib Ansari of SECR struck two goals on 64th minute and after 2 minutes of extra time of the regular 90 minutes against Nagpur Blues. Nitin, Atif and Rizvan of SECR also played a fine game from the first half of the match wherein Amit Anthony defended well to curb Nagpur Blues from scoring any goal.
Although Nagpur Blues tried a lot to strike at least a lone goal but SECR did not give a single chance to Nagpur Blues to score the same.
Meghe Super Division 2013-14

Result:

SECR scores 2 goals.