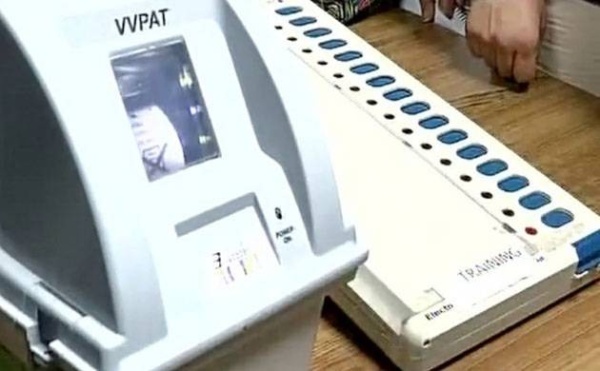 Nagpur: The scorching heat during 'Nautapa' seems to have hit voting in Bhandara-Gondia Lok Sabha by-poll as low percentage is being recorded even as polling inching towards end. Voters' response is lukewarm as could be seen in low voting percentage. A deluge of EVM malfunctioning complaints also marked the polling even though the flaws were rectified. But the effect was seen in the voting percentage.
The District Collector Abhimanyu Kale, however, said that the faults in EVM machines were rectified and added that the polling stations where the EVM malfunctioning occurred, the polling time would be extended. According to the District Collector, Electronic Voting Machines (EVMs) with Voter Verifiable Paper Audit Trail (VVPAT) are being used in this by-poll. VVPAT machines are used during election process to verify that the vote polled by a voter goes to the correct candidate. After a voter presses the button on the EVM against the chosen candidate, the VVPAT prints a slip containing name of the candidate and the election symbol and drops it automatically into a sealed box.
In the Bhandara-Gondia Lok Sabha by-poll, 4727 ballot units, 2366 control units and 2724 VVPAT machines are in place.
Former Union Minister Praful Patel sought to know why EVMs from Surat in Gujarat were used in the Bhandara-Gondia by-poll when similar machines were available in Maharashtra. "EVMs were available in Maharashtra. What was the reason for bringing EVMs from Surat in Gujarat. We have expressed our doubts to the Election Commission," Patel said.
The Election Commission blamed the sizzling summer heat for malfunctioning of EVMs. At the same time, the poll panel termed the reports of large-scale EVM failure 'exaggerated.' It said "exaggerated projection of reality" reports of 'large scale' failure of EVMs during Lok Sabha and Assembly by-polls in Maharashtra and Uttar Pradesh. Amid reports of faulty EVMs from various polling stations, the Commission came out with a statement to deny that the failure of the voting machines was unusual.
The Election Commission clarified that that there were no cancellations in Bhandara-Gondia. Earlier, there were reports that polling was cancelled in at least 35 polling stations after serious malfunctioning in the EVMs. "The reports emerging in some quarters about EVMs failing in 25 percent polling booths are also incorrect. It is clarified that voting has not been cancelled in any booth in Bhandara-Gondia and voting is continuing smoothly after necessary replacements, wherever required," the EC said.