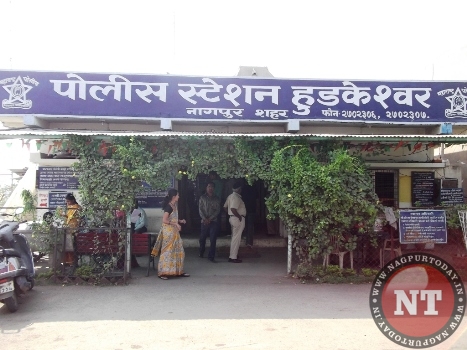 Nagpur: Acting on tip-off and painstaking probe, Hudkeshwar police cracked the murder of a young man by arresting two accused on Sunday.
It may be recalled that a criminal named as Govardhan Shalikram Shende (32), resident of Plot No. 110, Shreyas Nagar, Narsala, was attacked by a man named Kangaru and his accomplice at a vacant plot near house of Dwarka Vaidya in Shreyas Nagar, on Friday (May 25) night. The accused hit Govardhan with stones, wooden sticks, iron rod and inflicted fatal injuries on his head and face. Govardhan died on the spot.
After registering a case under Sections 302, 34 of the IPC, Hudkeshwar police launched investigations and mounted a search to nab the accused. The cops on Sunday received a tip-off that two suspicious persons were standing near a paan thela at Ramteke Nagar in Ajni area and the two could be linked to the murder of Govardhan. Acting swiftly, a team of cops rushed to the spot. But the two persons, as soon as seeking police van approaching them, tried to escape. But the cops chased and caught them. After intense interrogation, the two accused revealed their names as Abhijit alias Dadu Suresh Bansod (20), a resident of Shreyas Nagar and Kangaru alias Nareshkumar Kamalsingh Tekam (25), a resident of Balaji Nagar, Manewada Road. The two accused confessed their crime in eliminating Govardhan Shende.
Investigation revealed that Govardhan Shende, himself an accused in two murder cases, had asked Abhijit to bring 'Chivada' of Rs 50. Abhijit and his friend Ashok Chavan picked a quarrel with Govardhan over the issue and they doled out threats to each other. Abhijit then decided to eliminate Govardhan. With the help of Kangaru, the accused Abhijit accosted Govardhan Shende and attacked him with stones, sticks, iron rod and killed him near house of Dwarka Vaidya in Shreyas Nagar on Friday (May 25) night.
Two accused are still at large and being hunted by cops.
Further investigations are being carried out by Police Inspector Kishore Chaudhary.