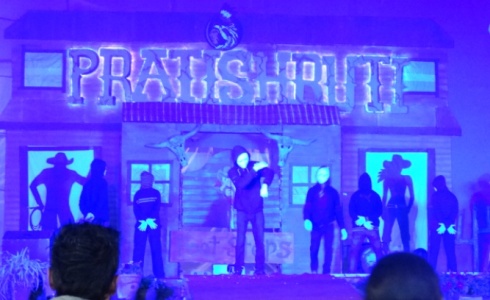 Nagpur News:
In the second day of the 4 day college fest of Shri Ramdeobaba College Of Engineering and Management, in the dancing competition 'Footsteps', students from various colleges in the city put their best foot forward and that too literally. Amazing performances ranging from a UV light performance to an all masked performance, the students left no stone unturned in making their dance performances the best.
The judges for the event were- Priyanshu, a semi-finalist in India's Got Talent, season 3, top 36 in Dance India Dance and soon to be playing a role in ABCD part 2; Alister Anthony, a teaches in Centre Point School who has specialised in aerobics in Jive and Salsa; Vinod, a choreographer and owner of Perfect Dance Studio; Madholkar, who has a PG in Bharatnatyam and who has performed at Mahatma Gandhi Institute for Cultural Cooperation in Trinidad and Tobago, Principal of Kalasrajan Academy of Bhartiya Vidya Bhavan School.
For the three categories of solo, duet and group dances, the most popular songs were Man Mera from the movie Table no. 21 and songs from ABCD. From Bharatnatyam to Locking and Popping to Indian Contemporary to Belle Dancing, the range of dance forms was plentiful.
Pratishruti '13 surprised the audience with a jam session of 5 minutes in the middle of the performances. There was an overwhelming response from all the students and teachers who enjoyed the little time they got for dancing. The results for the finals are to be announced on 1st March.
Shivangi Chaturvedi