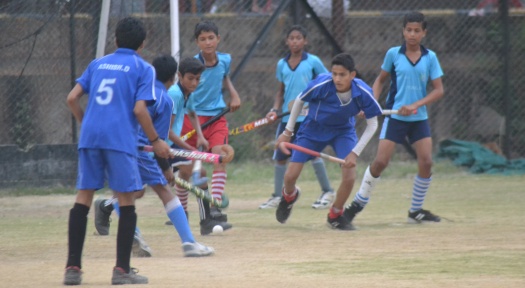 Nagpur News:
In the brilliant play of Hockey, School of Scholars trounced Jaibai Chaudhary (B) by four goals. The Jaibai Chaudhary (B) abysmally failed to score a single goal on the fourth day of Meeradevi Dasture Memorial Inter-School Tournament.
The first goal was scored by Shashank Durugkar by a penalty corner after the 13 minutes of the beginning of the match. Akshay Deshmukh, not to be left behind, scored the second goal just after two minutes of  Shashank scoring the first by dribbling past the Jaibai players in a clever way.  Shashank Durugkar, who saw the equalizer of sort by Akshay, also struck the third one by a penalty corner at 20th minute. The final goal was hit by Rohit Singh thus making a clean sweep by 4-0.
The fifth day (April 26) of the tournament will see the contest between Tidke Vidyalaya and Railway Janmandal at 4 pm.