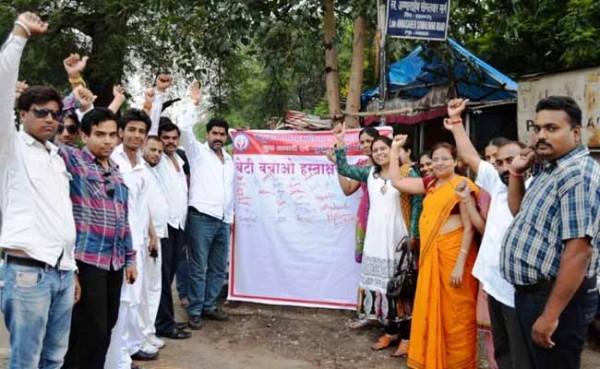 Nagpur News: To spread the awareness against female foeticide and save girl child, a unique signature campaign was undertaken at Khamla vegetable market by Bahujan Human Rights and Yuva Kranti Manch on 17th September .
In order to reach out to the masses . It has launched the signature campaign on Tuesday.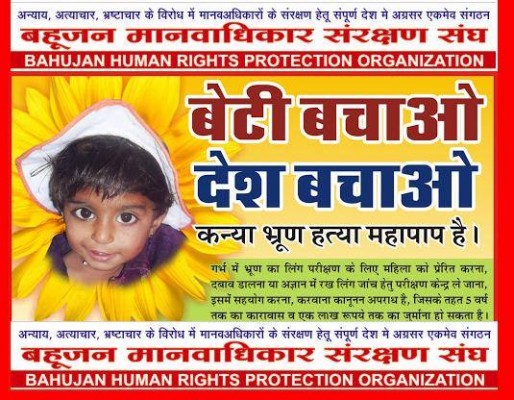 In its fight to strike a balance in the ever-falling child sex ratio in India, and to stop female foeticide facilitated through pre-natal sex determination, Bahujan Human Rights association and Yuva Kranti Manch has strategized and executed the campaign .
While speaking to Nagpur Today correspondent Ravikant Kamble , Bahujan Human Rights ,President Baalu Meshram and Yuva Kranti Manch President Panju Totwani said, " Shocking facts such as 4 little girls are killed in their mother's wombs every minute in India, because of illegal sex determination by parents and in law's , who do not want a girl child prompted us to this Campaign.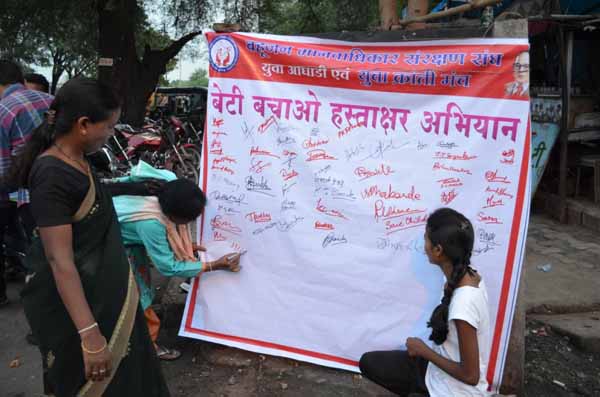 On the event Bahujan Human Rights association President Baalu Meshram and Yuva Kranti Manch President Panju Totwani started the campaign. Bahujan Association head Vijay .D. Bajaj and  newly elected City chief Om Prakash Sharma actively participated in the campaign and took initiatives that others too join in.
Soheal Khan,Vikas Mishra, Mamtatai Bodhile,Bharti Meshram, Mayatai Shambharkar, Rajat Tiwari, Rajesh Shivhare, Prashant Shukla, Vivek Lanjewar, Amar Agreja, Arsh Aashique Sayyed, Latif Bhai and Sunil Soni took part in the awareness and Signature programme.
By- Ravikant Kamble