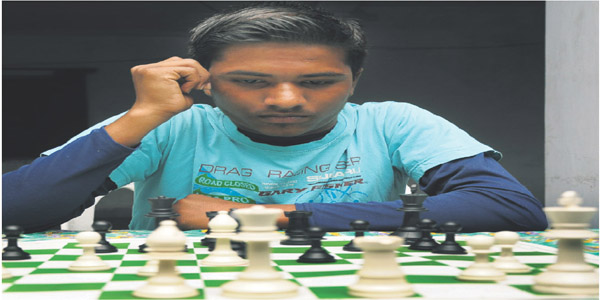 Nagpur News : Saurabh Lokhande emerged champion in Gaurav Ambhore Memorial 43rd Vidarbha Open Chess Championship 2013 whichw as jointly organised by Nagpur District Chess Association and Vidarbha Chess Association at Dr Ambedkar College Sports Academy (DACSA) Hall on Sunday.
Lokhande bagged the title with highest seven points. Sankalp Gupta (6, 40) emerged runners up.while YM Shamkuwar (6, 38), and VK Srivastava (6, 37) achieved third and fourth place respectively. Veteran Ishwar Ramteke (6, 36) finished fifth.
In the last round Saurabh Lokhande defeated Ishwar Ramteke in Sicillian Defence game to clinch the title. Y M Shamkuwar drew his Queen pawn game with Sankalp Gupta in 32 moves. Pujjam Bansod downed Ajinkya Ingale in 49 moves in irregular opening.
Parents of Late Gaurav Ambhore distributed the prizes. Prasad Aurabgabadkar was also felicitated for his outstanding performance at Parsvnath International Chess Championship 2013 held at New Delhi. Prof. Arvind Joshi and chief arbiter Swapnil Bansod were also present on the occasion. Umesh Panbude conducted the proceedings and also proposed a vote of thanks. Final standings
1. Saurabh Lokhande (7), 2. Sankalp Gupta (6, 40), 3. YM Shamkuwar (6, 38), 4. VK Srivastava (6,37), 5. Ishwar Ramteke (6, 36), 6. Pujjam Bansod (6, 33), 7. Umesh S Lalwani1( 5.5, 35), 8. Shubh Chandak (5.5, 34.5), 9. Shailesh Dravid1859Nagpur (5.5, 33), 10 Ajinkya Ingale (5,38).